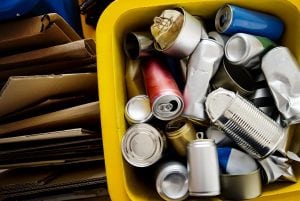 This story has been corrected.
The U.S. and China have fired their latest salvo in their ongoing trade war, and this time tariffs have been applied to a number of additional U.S. recyclables.
On Aug. 23, each country began imposing new rounds of penalties on $16 billion worth of each other's goods. Among the hundreds of categories of products, this latest round included China's 25 percent tariff on OCC, recovered paper, scrap plastics and various recovered metals. Chinese authorities released the list earlier this month.
According to the Institute of Scrap Recycling Industries (ISRI), U.S. aluminum sent to China now has a 50 percent tariff on it. China on Aug. 23 bumped it up from 25 percent to 50 percent. China first imposed a tariff on recovered aluminum in early April.
U.S. export statistics show penalties on aluminum scrap correlate with a decrease in shipments to China, but not a complete stoppage. U.S. aluminum exports, not counting used beverage containers (UBCs), averaged 65,000 short tons per month from January through April. In May, the first full month after the 25 percent tariff had kicked in, they dropped to 44,000 short tons. In June, they were at their lowest volume for the year, 41,000 short tons.
UBC exports were much lower overall – exporters sent 381 short tons to China during the first six months of the year.
The Aug. 23 tariffs also included, for the first time, virgin resin produced in the U.S. The American Chemistry Council (ACC) has been speaking out in opposition to chemicals and plastics tariffs, according to Plastics News.
What could be next
China now has U.S. pulp in its sights, among many other products. It has drafted a list of tariffs on 5,000 product codes, with the duties targeting about $60 billion in U.S. goods. That list included pulp from virgin and recycled sources.
For chemicals and plastics, that list could be even more painful than the Aug. 23 one, according to the ACC. The $60 billion list is in response to the Trump Administration's proposed 25 percent tariffs on $200 billion worth of Chinese goods. This round could go into effect starting in September.
Bloomberg and Reuters both reported that talks between the countries haven't yielded significant progress, making another round of tariffs more likely.
Photo credit: Rawpixel.com/Shutterstock
This story has been corrected to state that only recovered aluminum has a 50 percent Chinese tariff on it. China's duty for scrap steel is still at 25 percent. 
More stories about exports