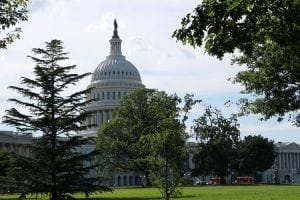 The U.S. EPA's budget is cut, but not nearly as deeply as President Trump proposed, under a spending plan passed by the House of Representatives last week.
The House on July 19 voted to approve the fiscal year 2019 appropriations bill for the EPA, Department of the Interior and other agencies and programs. The Senate is currently considering a version that gives the EPA the same spending levels it was allocated this year.
Under H.R. 6147, the EPA's budget is set at $7.96 billion in fiscal year 2019, $100 million less than the 2018 fiscal year level, according to The Hill. That spending level is $2.2 billion higher than what President Trump proposed for the EPA. Fiscal year 2019 runs from Oct. 1, 2018 through Sept. 30, 2019.
The White House expressed concerns about the spending levels, according to The Hill. Trump also proposed deep cuts to EPA's 2018 budget, but Congress ultimately passed – and he signed – a bill maintaining its budget.
For the 2019 bill, the House Appropriations Committee noted in its bill report that it doesn't support the proposed elimination of the Resource Conservation and Recovery Act (RCRA) Waste Minimization and Recycling program. Resource Recycling previously reported on how this program supports municipal recycling efforts.
The committee also recommended funding EPA's RCRA activities at $104 million, a decrease of 5 percent compared with the 2018 level. Trump proposed giving the RCRA program $74 million.
The bill passed in a 217-199 vote. No Democrats supported it and 15 Republicans crossed over to vote against it.
The U.S. Senate is now considering its version. The Senate Appropriations Committee last month passed a bipartisan bill that maintains EPA's budget at fiscal year 2018 levels. The committee's report calls for giving the RCRA program more than $112 million, nearly 3 percent more than the 2018 level.
Photo credit: Yurii Rover/Shutterstock
More stories about legislation