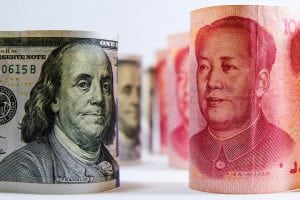 Import duties have taken effect on machinery, components and billions of dollars of additional products shipped to the U.S. from China.

The U.S. on July 6 began imposing a 25 percent tariff on roughly $34 billion of Chinese imports "containing industrially significant technologies." The list of products includes 818 product types, including equipment relevant to recycling.
For example, machinery for grinding, sanding, polishing, extruding, injection-molding, blow-molding and a variety of other processing activities are subject to the new duties. Paper making equipment is also hit by the new tariff, including machinery "for making paper pulp, paper or paperboard," and a number of components that are included in such equipment.
In a press conference Friday, a Chinese government spokesperson noted "the instant that the U.S.'s unilateral and unfair imposition of additional tariffs on China came into effect, China's tariff increase on some of American exports also took effect immediately."
China's list of retaliatory tariffs was published in June. The list mostly includes food, vehicles and a small number of other products, with the total value of imports covered equalling the $34 billion targeted by the U.S.
The newly enacted tariffs join the steel and aluminum tariffs the U.S. began levying in early June.
Exclusion process opens
Companies hoping to exclude certain products from the tariffs have a window of opportunity to make that request. The U.S. Trade Representative announced last week that an exclusion process will accept requests until early October.
The trade office said its criteria for consideration will include "whether a product is available from a source outside of China, whether the additional duties would cause severe economic harm to the requestor or other U.S. interests, and whether the particular product is strategically important or related to Chinese industrial programs including Made in China 2025."
The office published the full guidelines for exclusion online.
The Institute of Scrap Recycling Industries (ISRI) this week vowed to submit comments and asked for member input. The group also encouraged companies in the recycling industry to submit their own exclusion requests.
According to ISRI, although tariffs will have to be paid until the exclusion requests are evaluated, if the request is approved there will be a process for refunding those duties.
Possible future tariffs
The U.S. published a second, smaller list of additional products that are being considered for tariffs. The list includes 284 product types worth $16 billion, including more machinery and components, as well as many virgin plastic resins.
The Chinese government responded accordingly, releasing its own second list of $16 billion of imported products potentially subject to future tariffs based on the U.S.'s decision. That list includes a variety of virgin plastics, fuels and chemicals.
Photo credit: Dilok Klaisataporn/Shutterstock

More stories about regulation/oversight