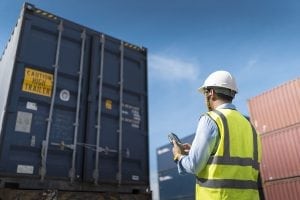 New pre-shipment inspection requirements for loads of scrap material bound for China are scheduled to begin this week, and one exporter says the change is going to be a costly disruption.
In the past, an inspector from China Certification and Inspection Group (CCIC) North America would come to exporter plants sporadically, around once per quarter, according to sources. After going through the mandatory process, firms would be allowed to self-certify loads until the next on-site inspection.
But as of this week, new requirements from China dictate that inspectors come on-site to an exporter's facility for every load that's sent out. Once at the facility, the inspectors will watch materials be loaded onto trucks and provide a seal of certification. All exports bound for Chinese ports must undergo the time-intensive procedure.
"It's a lot of moving parts to coordinate," said one fiber-focused exporter who spoke on the condition of anonymity. The exporter added the requirements amount to a "huge" shift.
China's General Administration of Customs published the new guidelines in Chinese. The Institute of Scrap Recycling Industries (ISRI) posted an English translation last month. The policy was initially slated to take effect in early June, but officials delayed it until after June 22, according to fiber research firm RISI.
Enough personnel to meet demand?
There will likely be a shortage of inspectors because they will be in such high demand. The exporter who spoke to Resource Recycling said there are rumors that CCIC is looking to hire inspectors who previously worked in-house at major brokerages such as Ralison and America Chung Nam because it will take time to train new auditors.
For exporters, there are a couple major impacts that will be felt immediately.
"The biggest thing is space," the exporter said. Companies will have to store loads that could previously be sent immediately. That will cause backups and will present logistical challenges.
Secondly, the change will bring cost increases. It's unclear who will actually pay for the increased inspections: the exporting company or the buying agent for the Chinese importer.
"Common sense tells you it's going to be the shipper," the exporter said.
Trade publication American Metals Market previously reported that inspections will require a "$152 inspection fee, a rate of $60 per hour for the inspector's time during the visit, a 54-cent-per-mile charge for travel costs if the inspector drives to the yard, and in certain cases – if deemed necessary – airline travel, rental car and hotel costs."
The new change calls into question the overall viability of shipping to China, noted the exporter who spoke to Resource Recycling.
"It definitely makes you think twice about it," the exporter said.
The move toward pre-shipment inspection of all loads could be a way of replacing the inspections upon arrival in China. Reports have indicated backups and other logistical challenges with inspecting every load that arrives in Chinese ports.
Last year China began instituting a range of restrictions on the import of recyclables, and the country has outright banned a number of recovered materials from importation.
Photo credit: CrispyPork/Shutterstock

More stories about exports