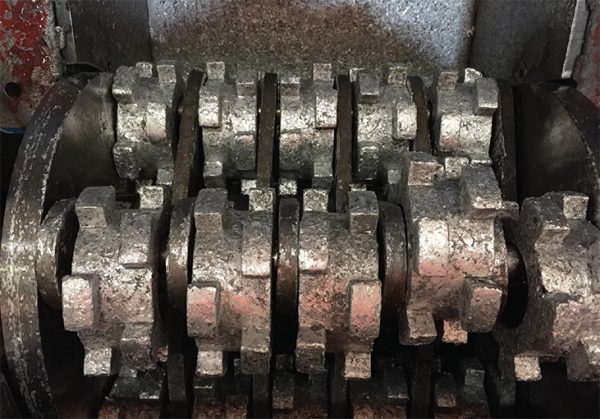 China supplies components for a lot of equipment used in the U.S. recycling industry, meaning tariffs on Chinese imports would be felt across many recycling sectors, according to an industry association.
The Institute of Scrap Recycling Industries (ISRI) submitted testimony to the U.S. Trade Representative this month, asking that the Trump Administration consider modifying its proposal to levy tariffs on certain Chinese imports.
The tariffs were floated in response to a investigation by the U.S. Trade Representative, which presented the claim that China unfairly facilitates the transfer of technology and intellectual property from U.S. to Chinese companies, among other complaints.
As of Monday, the future of the proposed tariffs was unclear. Officials from the U.S. and China released a joint statement May 19 expressing consensus on making changes to the trade relationship between the two countries. The statement didn't mention the tariffs, but Treasury Secretary Steven Mnuchin told Fox News on Sunday that the tariffs were on hold. Still, just days earlier, experts anticipated the tariffs would be implemented as proposed, and Trump advisor Larry Kudlow told CNBC on Monday said tariffs were still on the table as a tool for negotiating or enforcing agreements between the two countries.
In comments to the trade office, Adina Renee Adler, ISRI's senior director of government relations and international affairs, described the substantial role equipment plays in the recycling industry. Machinery is used to sort, clean, grind, crush and shred material into commodities, she explained. Because of the high throughput in many recycling operations, equipment components must be replaced frequently.
"For most companies, especially small and medium enterprises, such equipment turnover makes up a large percentage of their operating costs," Adler wrote. "The vast majority of these parts – up to 85 percent for crushing and grinding parts, for example – are supplied from China."
Under the current proposal, roughly $50 billion worth of annual imports from China would be hit with a 25 percent tariff. Among those imports are various appliances with self-contained motors, trash compactor components and other parts used in general machinery.
"Adding a 25 percent import tariff on these parts would irreparably harm the competitiveness of the U.S. recycling industry and risk recycling and manufacturing jobs due to lower output and thus, fewer inputs to metal production and fewer exports of recyclable materials," Adler wrote.
Equipment that uses magnets, including machinery for separating ferrous and non-ferrous metals, would be particularly hard hit, Adler wrote.
"Unfortunately, as magnets are made from rare earth elements, the vast majority of which is mined in China, the recycling industry is dependent on Chinese sources for the majority of the magnets required in recycling operations," she wrote.
ISRI asked that 10 tariff codes most relevant to the recycling industry be removed from the proposal. The comments were submitted May 11, which was the final day for witten comments. The trade office held multiple hearings on the tariff list last week, and it is allowing follow-up comments through Tuesday.
More stories about regulation/oversight