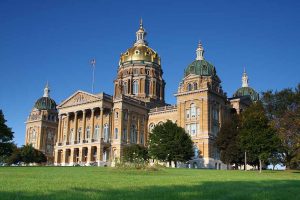 A new law in Iowa gives regulators statutory criteria they can use to determine whether companies are storing material for recycling or simply speculatively accumulating it.
Iowa Gov. Kim Reynolds signed into law HF 2303, which establishes criteria for a recycling facility owner to prove solid waste is being legitimately recycled, not stored indefinitely. The bill applies to all recyclables, except scrap metal. It also does not apply to hazardous wastes, which are regulated in Iowa by the federal EPA.
Alex Moon, chief of the Iowa Department of Natural Resources' (DNR) Land Quality Bureau, told Resource Recycling in an interview that a number of past clean-up issues in the state prompted the bill. He noted two cases in which construction and demolition debris companies claimed to be recycling but kept accumulating large quantities of material before going bankrupt. There are other instances of appliance recycling operations generating large stockpiles, he said.
"Without clear statutory criteria to define legitimate recycling, it has been presumed that any facility engaged in recycling solid waste is excluded from the state's solid waste regulations," Moon wrote in an email. "However, due to economic incentives for managing solid wastes outside the regulatory system, there is potential for some waste processors to claim that the activity they are engaged in is recycling when, in fact, they are facilitating final disposal. The result is a long-standing eyesore or an expensive clean-up bill paid for by taxpayers. "
The new law requires legitimate recycling operators to keep records of business relationships with end users of the recyclables, documentation tracking inventory levels, and records demonstrating that at least 75 percent of the material was moved for recycling during a calendar year. The operator must provide the documents to DNR upon request.
The law specifically states the DNR can order violators to remove and properly dispose of material being accumulated.
The bill was supported by the Iowa Recycling Association.
HF 2303 passed the House of Representatives on March 5 in a 97-0 vote and the Senate on March 12 in a 48-1 vote. Reynolds signed it March 21. The law goes into effect July 1.
Photo credit: DesMoinesMike/Shutterstock
More stories about regulation/oversight