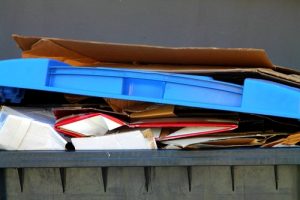 The U.S. paper recovery rate declined to under 66 percent last year after multiple years of increases, and an industry group says China's import ban is to blame.
The American Forest & Paper Association reported that 65.8 percent of U.S. paper was recovered in 2017, down from 67.2 percent a year earlier. That equated to 50.8 million short tons of paper recovered last year, down from 52.2 million tons in 2016.
"The decrease resulted from a 7.4 percent decline in recovered paper exports occasioned by China's imposition of recovered paper import restrictions," AF&PA said on its Paper Recycles website.
Meanwhile, domestic U.S. mill purchases of recovered paper increased by 1.1 percent, far short of filling the gap.
The 2017 paper recover rate is the lowest since 2014, when recovery was at 65.2 percent, according to AF&PA statistics. The supply of paper available for recovery also fell, but by a smaller percentage than the drop in the recovery rate.
Besides China, AF&PA pointed to the rise of e-commerce, which has led to more OCC recovered through residential single-stream programs rather than commercial settings, as a force straining paper recovery.
In a writeup on the rate, Brian Hawkinson of AF&PA said the recovery rate is "a reflection of the broader recovered fiber market, which is a complex system in which supply, demand, and global economics all play a role in how much fiber is ultimately recovered."
The rate was announced on May 3 with little fanfare. Industry media outlets Waste Dive and Recycling Today reported the rate earlier this week.
AF&PA has set a goal of hitting 70 percent recovery in the next two years.
Photo credit: Keikona/Shutterstock
More stories about fiber