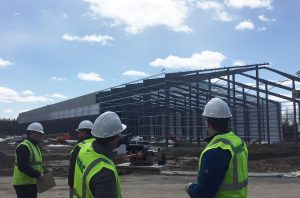 A mixed-waste processing facility under construction in Maine will be among the first users of a new type of non-wrapping screen.
San Diego-based CP Group will supply the 144,000-square-foot Fiberight facility in Hampden, Maine with a variety of sorting technologies. Among the equipment to be supplied is the company's new CP Auger Screen, which uses cantilevered augers. The equipment separates the stream into fractions above and below the screen based on size and conveys wrapping materials off the side of the screen.
CP is installing the first three auger screen in facilities this summer, and several more are sold and in production, according to the company.
The Fiberight facility, which is scheduled to start up by the fall, will also include a CP Trommel Screen with bag-opening knives, a steel-disc CP OCCScreen, two reduced-wrapping CPScreens for 2D/3D separation, abrasion-resistant CP Glass Breaker, and four MSS CIRRUS optical sorters. Two optical sorters will recover PET and HDPE, one will sort and clean fiber, and one will recover any remaining commodities, according to a press release.
The Fiberight facility will utilize the company's technology for processing MSW into biofuel and industrial products. WasteDive reports the project has been hit with lawsuits and permit appeals from the operator of a competing waste-to-energy facility.
More stories about MRFs