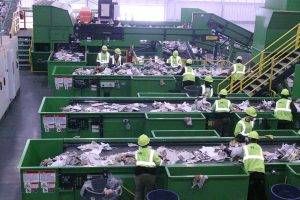 Facing rock-bottom fiber prices, Waste Management's recycling revenues experienced a 16 percent decrease during the first quarter of 2018.
The Houston-headquartered company's recycling business brought in $312 million in revenue during the first quarter, according to financial results released April 20.
The decrease was driven by a decline in prices fetched for commodities leaving company MRFs. Average commodity values were down 36 percent year over year, according to a company press release. The volume of recyclables sold decreased by 1 percent.
During an April 20 call with investors, Waste Management CEO Jim CEO noted that OCC prices have declined to nine-year lows, and mixed paper has dropped to $0 or negative values in some markets.
At the same time, Waste Management, like other MRF operators, is getting pinched with higher sorting costs. Those costs have been incurred to try to meet higher quality standards demanded by markets since China began restricting imports and enforcing a 0.5 percent contamination limit.
Fish discussed the challenge the company faces in removing contamination coming in the door – some company MRFs receive as much as 40 percent trash, he said, noting that contamination has grown as waste diversion goals have become more aggressive in some jurisdictions.
"In addition to that, China temporarily suspended import licenses, which caused global commodity prices to plummet last fall and they have yet to recover," Fish said, according to a transcript provided by Seeking Alpha. "Clearly, this is not a sustainable recycling business model. We must address higher operating costs in our recycling facilities and shrinking revenues from the sale of recycled products."
Waste Management is continuing to educate customers and partner with industry stakeholders to reduce contamination. It is also auditing incoming loads and rejecting and charging back for contamination when possible. In new contracts, the company is also seeking to shift even more of the commodity price risk to customers, Fish said.
"We started this shift several years ago by restructuring contracts and this is the next evolution in that shift," he said.
Waste Management has been able to find alternative markets for its recovered commodities. Fish said that a year ago, the company was shipping about 30 percent of its OCC to China; now, it's about 2 percent. Alternative markets have included India and Vietnam, but they bring higher shipping costs.
Fish also expressed optimism China would relax restrictions on imported OCC to meet the needs of Chinese mills, which can't get enough domestic OCC to satisfy their demand and have been relying dramatically-more-expensive pulp. As a result, Waste Management sees the potential for OCC prices to rise.
Recycling revenues, which make up about 9 percent of the company's revenue pie were hurt. But Waste Management's hauling and landfill businesses were strong. Overall, revenues in the first quarter totalled $3.5 billion, up 2 percent year over year. In the press release, Fish said "the traditional solid waste business is in exceptional health."
Republic Services, Waste Connections, Advanced Disposal and Casella Waste Systems, the second, third, fourth and fifth-largest residential recycling companies in the U.S., are scheduled to release their results during the first week of May.
Photo courtesy of Waste Management
More stories about markets