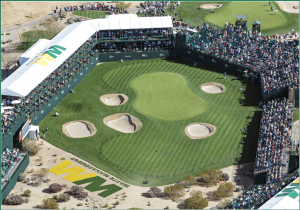 Each winter, golf fans turn their attention to a notable tournament near Phoenix. And in recent years, host Waste Management has used the event as a chance to highlight opportunities in materials diversion.
Not surprisingly, one of the company's nearby materials recovery facilities plays an important role in all the activity.
The Northwest Regional MRF is located in the Arizona municipality of Surprise, which is in the northwest corner of the Phoenix metropolitan area. In addition to taking in both residential and commercial material from communities throughout Arizona, the single-stream facility processes recyclables generated by spectators at the annual Waste Management Phoenix Open.
The golf tournament is known for drawing huge crowds of energetic fans – more than 600,000 over the course of the week – to the TPC Scottsdale Stadium Course. The event, dubbed "the greatest and greenest show on grass," this year took place Jan. 29 to Feb. 4.
Waste Management has made efforts to use all the excitement to tee up conversations and commitments that can help advance recycling.
The company's Sustainability Forum each year takes place in conjunction with the fairway festivities. In addition, the company aims to divert 100 percent of all tournament materials from the landfill, a goal it says it achieved in 2017, thanks to an array of strategies, including extensive use of recycling and composting collection receptacles on the course.
Once material is collected at the tournament, the MRF in Surprise take center stage. According to Waste Management, the facility processed over 335 tons of materials generated at the 2017 iteration of the tournament, including a variety of fiber items as well as plastics Nos. 1, 2 and 5.
But the Northwest Regional MRF stays busy the rest of the year as well, handling 300 tons of fiber per day alongside 150 tons per day of commingled containers. In 2016, the MRF processed roughly 82,000 tons, and its throughput surpassed 100,000 tons last year.
The 75,123-square-foot facility relies on processing equipment from Bollegraaf, Sierra and Harris. It's located on a site that also includes a landfill and landfill-gas-to-energy plant.
Waste Management noted bulky contaminants and plastic film have emerged as the biggest problems when it comes to operation of the facility. "Plastic bags wrap around the fiber screens on the equipment," noted Al Gallagher, MRF manager, "which reduces effectiveness and increases downtime needed to manually remove the wrapped plastic bags and film."
The MRF employs 85 people, who work on two shifts.
This article originally appeared in the February 2018 issue of Resource Recycling. Subscribe today for access to all print content.