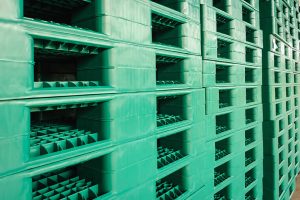 The Association of Plastic Recyclers has added partners to a campaign designed to encourage the use of recycled-content products.
APR's Demand Champions campaign recognizes companies that purchase and use recycled-content products. When first announced in October, the program focused on the use of recycled-plastic "work in progress" (WIP) durable goods: plastic pallets, crates, tote boxes, cans and pails, among other items that are used internally by the companies.
Now, APR is expanding the program to additional applications for post-consumer resin (PCR). APR's announcement, which also included a list of newly participating companies, was delivered in conjunction with the Plastics Recycling Conference in Nashville, Tenn.
Through the Demand Champions program, participating companies sign a commitment letter to identify and utilize products with PCR content in their facilities, or they detail another new application for PCR that will be developed within a year, according to the group.
"Although the initial phase of the campaign focused on WIP durable goods, such as pallets and crates, we quickly realized the opportunity to expand the program to include any new application for PCR," Liz Bedard, director of the APR Rigid Plastic Recycling Program, stated in a press release. "Through commitments to purchase WIP durable goods manufactured with broad specification PCR, or develop a new application for PCR, APR Recycling Demand Champions will make a significant and measurable impact in strengthening plastic recycling markets."
New Demand Champions
APR announced the following additional companies are now participating in the campaign: Nestlé Waters North America, Denton Plastics and Champion Polymer Recycling.
The companies join those that committed in October 2017: Berry Global, Campbell Soup Co., Coca-Cola North America, Envision Plastics, Keurig Green Mountain, KW Plastics, Merlin Plastics, Plastipak/Clean Tech, The Procter & Gamble Company and Target Corp.
The program was met with "an overwhelming, enthusiastic response from plastic recycling stakeholders," Steve Alexander, president of APR, stated in the release.
"One manufacturer recently indicated intent to replace 250,000 wood pallets with pallets made with PCR, leading to more than 2 million pounds of increased demand in that one application alone," he stated.
Photo credit: unchalee_foto/Shutterstock
More stories about industry groups