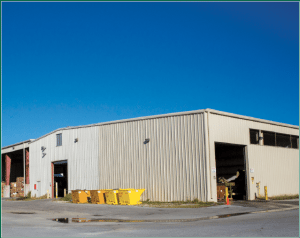 The largest Marine Corps base on the East Coast, Camp Lejeune covers 246 square miles and is home to about 170,000 residents, both military and civilian. It has stores, restaurants, schools, a library and more.
In short, it's a city, and cities generate garbage and recyclables.
The Camp Lejeune Qualified Recycling Program (QRP) works to divert material from the on-base landfill.
"A QRP maximizes the amount of solid waste diverted from landfills by increasing recycling, supporting green procurement policies, increasing public awareness and [engaging in] outreach related to waste minimization and recycling operations," according to a program description.
QRP operates a 12,000-square-foot materials recovery facility recovering and sending to market mixed paper, OCC, UBCs and small arms brass casings. On an annual basis, the MRF handles about 2,000 tons of paper, OCC and UBCs, and another 300 tons of small arms brass casings.
The facility also recovers steel cans, but it doesn't currently have a market for plastics and glass, said Alicia Filzen, QRP manager.
The facility is located near the base's non-hazardous industrial solid waste landfill and a treatment and processing (T&P) facility. Incoming recyclables are first weighed before they are diverted to either the MRF or the T&P facility.
The MRF uses a manual sorting approach. Equipment includes an Excel baler, as well as a machine that's unlikely to be found in any civilian MRF: a small arms inert certifier and deformer.
The system separates the ammunition into its individual solid metallic components, rendering the brass inert, Filzen explained.
The facility also includes a paper shredder to destroy "For Official Use Only" documents, and it stores used toner cartridges before they're sold.
The QRP generates about $1 million in revenue from commodity sales annually, and the vast majority comes from the sale of brass casings.
As will sound familiar to recycling professionals in the civilian world, the MRF's biggest issue is dealing with contamination.
Construction and demolition debris go to the T&P facility, an 11-acre parcel where scrap metal is recycled, concrete crushed, wood waste chipped and other organics composted.
The crushed concrete is used for training roads on the base, including tank trails, beneficial fill and other purposes. Doing so saves transportation of the C&D debris to the nearest C&D landfill, which is about 50 miles away. Shredded wood is used as mulch or transferred off-site for use as boiler fuel.
QRP uses a 2.5-acre section of the T&P site for composting yard debris and manure. The mulch and compost products are available to the public free of charge.
The MRF has three employees working on one shift Monday through Friday.
This article originally appeared in the January 2018 issue of Resource Recycling. Subscribe today for access to all print content.