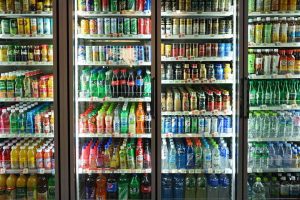 Two brand owners recently made pledges to boost recycled content and improve the recyclability of their packaging.
French food and beverage giant Danone announced that its evian brand of bottled water will use 100 percent recycled content PET bottles by 2025. The brand's bottles are currently made with an average of 25 percent recycled content, according to a press release.
To help get there, it has signed a deal with PET recycling startup Loop Industries, which uses a pressureless, heatless depolymerization process. The technology breaks down PET into its component monomers, which can be used to make new PET, including for food and beverage packaging.
"Today's announcement by evian is the result of 18 months of positive collaboration with evian and the R&D and purchasing teams of its parent company Danone," Daniel Solomita, Loop's founder and CEO, stated in a press release. The Montreal-based company's technology can recover PET from streams that include otherwise problematic inks, labels and other contaminants.
"We are now focusing on global commercialization of our technology through manufacturing partnerships to supply Loop branded PET/polyester resin," Solomita said.
Along with the recycled-content pledges, evian announced outreach and education initiatives aimed at boosting PET recycling. It also will participate in a project to remove floating ocean plastics.
Meanwhile, The Coca-Cola Co. served up a number of recycling-related 2030 goals. By that year, the Atlanta-based beverage giant wants to be supporting the collection and recycling of 100 percent of the volume of bottles and cans it's selling into the marketplace.
"The Company is investing its marketing dollars and skills behind this 100 percent collection goal to help people understand what, how and where to recycle," according to a company press release. "We will support collection of packaging across the industry, including bottles and cans from other companies."
To help meet the goal, the company also plans to continue working to ensure all of its packaging is recyclable. It'll also boost recycled content, ensuring its bottles are made with an average of 50 percent recycled content by 2030.
Last fall, Coca-Cola announced it would make all its consumer packaging 100 percent recyclable by 2025. That includes non-bottle and non-can packaging, including pouches and cartons.
In response to Coca-Cola's latest announcement, activist group Greenpeace said pressure from the group and its supporters led the company to make the pledges.
Global fast-food giant McDonald's also recently announced recycling-related goals. The company made packaging sustainability commitments and said it would provide front-of-house recycling service at all its restaurants by 2025.
More stories about brand owners