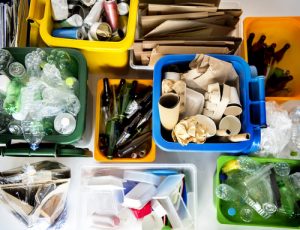 Connecticut brings material consistency to its residential program rules. That news is part of our roundup of recent materials recovery updates from U.S. states (and one Canadian province).
Colorado: A report shows wide disparities in recycling service across Colorado, which has a 12 percent overall recycling rate. The analysis was created by the Colorado Public Interest Research Group (CoPIRG) and nonprofit recycling company Eco-Cycle. It's described as the first statewide survey comparing recycling rates in the Front Range, the more densely populated area at the eastern foot of the Rockies, with mountainous and rural areas.
Connecticut: The Constitution State now has what other larger states have only dreamed about: a standardized list of accepted recyclables. According to the Department of Energy and Environmental Protection (DEEP), recycling rules have been standardized across the entire state. A "What's In, What's Out" outreach campaign has been launched to get the word out. The statewide standardization is possible because of Connecticut's relatively small geographic area and the limited number of processing facilities located there.
Massachusetts: Bay State lawmakers are discussing ways to boost recycling rates in underperforming communities, according to local TV news station WWLP. One policy that was mentioned was requiring the bundling of recycling and garbage service. Massachusetts has an average recycling rate of 38 percent.
Ontario: The curbside recycling rate in Canada's most populous province decreased by 2 percentage points in 2016, according to draft data. John Mullinder, executive director of the Paper and Paperboard Packaging Environmental Council (PPEC), writes about draft numbers released by Stewardship Ontario, which helps fund the Blue Box curbside program. The program reported a 62.4 percent recovery rate last year.
Wisconsin: After experiencing a couple of years of decreasing numbers, Wisconsin reports it collected more curbside recyclables last year than the year before. Data released by the Wisconsin Department of Natural Resources shows 418,376 tons of glass, metals, OCC, paper and plastics were collected for recycling in 2016, up nearly 2 percent over 2015. However, adding in voluntarily reported data for other materials, such as yard debris, appliances and electronics, the total weight collected fell by nearly 27 percent in 2016.
More stories about data