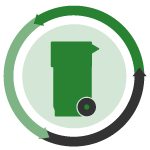 Major municipalities plan substantial changes to their recycling programs, and the loss of glass recycling has financial ripple effects for a small municipal program in Pennsylvania.
Program progress: Two large municipal recycling programs will begin accepting new materials. Washington, D.C. is expanding its recycling program to add a host of new food-service packaging, including pizza boxes; paper and plastic plates; cups; lids; to-go containers; plastic produce, deli and bakery containers; and trays. Resource Recycling has covered the district's evolving program over the past year. Separately, San Francisco announced it is expanding its list of accepted recyclables, as well. Local Fox News affiliate KTVU reports the city's curbside recycling program will accept paper cups, cartons and plastic film.
Called out: Ontario's environmental commissioner has identified several key areas the Canadian province should focus on in order to maximize diversion. Dianne Saxe's report, described in a press release, identifies organics diversion and stronger commercial recycling as two priorities that would bring the province closer to its waste-diversion goals.
Big Apple evolution: New York City plans to roll out citywide single-stream recycling by 2020 in a push to increase the city's recycling rate. In a press release, Mayor Bill De Blasio's office describes the move as part of an effort for the nation's biggest city to meet the goals of the Paris Climate Agreement, in the wake of the Trump Administration's decision to withdraw from the accord earlier this year.
Settlement money: The City of Minneapolis has received $600,000 as part of a settlement with a shuttered metals recycling company, and the City has formed a citizen advisory committee to give input on how to spend it. According to local ABC News station KSTP, some residents want the money to go toward environmental studies to determine the full impact the recycling company had on surrounding neighborhoods.
Performance plunge: Glass recycling ended in Pennsylvania's Lock Haven last year, and the change has affected how much funding the municipal recycling program receives from the state. The Express newspaper writes that the city recycled 23.5 percent less material after glass was removed, leading to less funding from the state's recycling performance grants.
Metric movement: TetraPak, a carton manufacturer, has announced it will shift how it measures its recycling progress. In the company's most recent sustainability report, it says the new metrics will move away from a standard diversion rate and will, instead, consider the company's work with associations worldwide to promote recycling, its investment in awareness campaigns, promotional activities with customers, recycling access expansion and recycling capacity improvements.
Hater Down Under: A recycling detractor has penned an opinion piece criticizing the recycling industry as a failed economic proposition and promoting landfilling as a better practice. In his column for The Australian newspaper, Nick Cater describes recycling as "yet another guilt-assuaging eco-fad that on close examination turns out to be economic garbage."
Corporate pressure: Starbucks has been called on by an environmental advocacy group to more aggressively prioritize the coffee giant's sustainability goals. As You Sow, which uses shareholder resolutions to pressure companies to take action, has submitted a resolution that calls on Starbucks to make its cups recyclable, ensure cups that are collected are recycled, increase recycled content, stop using plastic straws and work toward its stated goal of increasing usage of reusable cups.
Mattress recycling: Ikea has launched a recycling program accepting end-of-life mattresses at all of its stores. According to a press release, the service will be offered for a $25 fee at most stores and will be free in California, where state law prohibits charging a fee for the service.