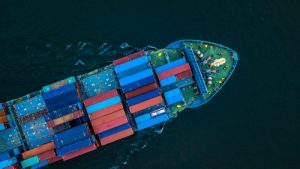 For Sonoco Recycling, which collects, sorts, and sells recycled materials, China's imports restrictions have particularly stung in one area: mixed-paper bales.
"From an overall volume and business standpoint, the biggest single impact we see today is on the mixed-paper side," said Mike Pope, president and general manager of Sonoco Recycling.
Pope recently spoke with Resource Recycling to explain how his Hartsville, S.C.-based company is reacting to the global supply chain shocks precipitated by China's actions. Sonoco Recycling is part of global packaging and industrial products maker Sonoco and is involved with curbside collection, sorting and recovered commodity sales.
Mixed-paper shipments to China halt
Sonoco Recycling is one of Sonoco's feedstock suppliers, but it also collects grades that aren't directly consumed by its parent company. For mixed paper, it collects more than Sonoco is able to use. It sells the rest into various markets, which, for the past month or so, have not included China.
"We haven't shipped an order of mixed paper to China in several weeks," he said.
Pope said he's not aware of anyone in China buying mixed paper. The lack of import permits is an issue, as are the Chinese government's hazy quality expectations.
"The real question is: What is China doing?" Pope said, noting previously stated limits of 1.5 percent and 0.3 percent contamination.  "There's so much mixed and unclear information out there."
Amid the uncertainty, exporters and importers alike aren't willing to risk sending material over the Pacific Ocean to Chinese ports. "We certainly are very concerned about the potential risks, so we have not been willing to pursue much in terms of sales," Pope said.
To move its mixed paper to market, Sonoco Recycling is selling to domestic outlets, India and countries in Southeast Asia. But, in order to supply those recycled paper users, Sonoco Recycling has had to slow down its MRF sorting lines and hire additional labor to help improve bale quality. At the same time, it's fetching dramatically lower prices than it was one or two months ago, he said.
"It's having a large economic impact," Pope said.
Impacts on OCC and bulky rigids
Sonoco is also a big exporter of recovered OCC. Because of a lack of import permits in China, shipments of OCC to the country have almost stopped completely, and material is starting to back up here because there's too little domestic capacity to absorb it, Pope said.
He expects that within the next 30 to 60 days, Sonoco Recycling will be forced to start storing OCC, too.
But, unlike with mixed paper, he's not as worried about the long-term prospects for OCC exports. The Chinese paper industry is struggling amid skyrocketing prices for paper collected in China.
On the plastics side, the future of mixed bulky rigids is less certain. The bales, which contain a variety of plastic items pulled off the presort line, are already low-value, Pope said.
"It's now a question of can you move it at all, rather than what's the price," Pope said.
He expects Sonoco may be faced with the inability to move mixed bulky rigids in a matter of days, not weeks or months, he said.
Bright points
In taking the long view, however, Pope expressed optimism the markets would adapt to the global supply chain shocks. With a wide cost spread between mixed paper and OCC bales – currently about $100 a ton – fiber consumers both here and internationally will adapt to accept more lower-cost mixed paper, he said. Almost all of Sonoco Recycling's U.S. fiber consumers are experimenting with their ability to take more mixed paper, he noted.
But it'll take some time for supply chains to adapt, Pope said.
Part of the shift will mean the recycling industry working to improve bale quality. That involves educating residents about what does and doesn't go in the receptacles, Pope said. Sonoco Recycling has been working with municipalities in the Carolinas on outreach on contamination and prohibitives.
"We're really trying to work with our municipalities to get their help to prevent that stuff from coming into the MRFs in the first place," Pope said.
A recent article in the Chronicle-Independent newspaper said Sonoco Recycling will begin charging the City of Camden, S.C. for each contaminated load of recyclables it receives. In turn, the city will launch an educational campaign and will begin issuing warnings to households found with contamination in their single-stream carts. Upon the third violation, the recycling cart will be taken away.
Pope has seen an improvement in relationships between the recycling industry and municipalities in recent years, he said. During a period of low commodities prices, followed by this year's volatility in pricing, local governments and the industry have been successful in shifting their interactions from strictly transactional ones to working together to grow sustainable programs that serve both companies and residents, Pope said.
"Overall, I'd say it's been very encouraging to see how well we've been able to develop the relationships," he said.
More stories about exports