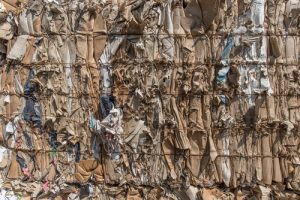 A Canadian recycling company has been fined for violating a fair wage policy in Toronto and must pay back wages to hundreds of employees.
Canada Fibers has been ordered to pay $1.34 million Canadian after local officials found roughly 1,600 workers were owed back wages for being paid less than agreed-upon rates.
The Toronto Star first reported the news.
The agreed-upon rates stem from the company's service contract with the City of Toronto. Part of the contract stipulates all workers at the recycling company would be paid $12.34 Canadian per hour. Those wages would increase based on inflation.
But newspaper stories and a city investigation found hundreds of workers were being paid below that amount. One employee was paid $11 for multiple years under the contract period. At the time, $11 was the minimum wage.
The city learned Canada Fibers used five different temp agencies to staff its facilities. The company will now use directly hired employees to sort and process materials sourced from the city recycling program, according to the Star.
A Canada Fibers spokesperson told the newspaper the company "has agreed to pay approximately $1.2 million in good faith payments to employees, with approximately $135,000 as an administration fee to the City of Toronto."
More stories about enforcement