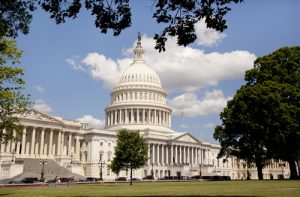 House lawmakers tasked with crafting a U.S. EPA budget are standing behind the agency's waste minimization and recycling program, they wrote in a report this week.
Overall, the sweeping budget cuts President Trump proposed for the agency are largely ignored in the funding proposal that will be presented to lawmakers on Tuesday.
The budget that will be proposed to the House of Representatives' Appropriations Committee would cut EPA funding by 6 percent, bringing it down by $528 million to $7.5 billion. That's about $1.9 billion above the amount requested in the president's budget, which called for cutting nearly a third of EPA's budget.
The latest proposal was drafted and approved by a subgroup of the Appropriations Committee. During the budget process, subcommittees write budget proposals for various federal agencies, and then present those budgets to the full Appropriations committee. After committee consideration, the proposals go before the entire House of Representatives.
Ken Calvert, R-Calif., chairman of the subcommittee charged with EPA funding, wrote in a report that the group specifically does not support eliminating the Waste Minimization and Recycling program, which is part of the agency's Resource Conservation and Recovery Act (RCRA) work. After the president's budget request was announced in May, EPA released a budget plan in response to the 31 percent cut proposal. In that plan, the waste minimization and recycling program's $8.8 million in funding was completely cut. The program provides resources and support mainly to municipal recycling programs and MRFs nationwide.
Calvert's report also specified RCRA would receive $100.9 million in fiscal year 2018, a $4 million cut from its current funding level. That's about $27.8 million more than the president's budget called for.
Recycling advocates have pointed to the recycling program as an important resource for the industry. Billy Johnson, chief lobbyist for the Institute of Scrap Recycling Industries (ISRI), previously told Resource Recycling ISRI's goal in lobbying lawmakers would be to make them "aware that these programs are really not very much money but they have a terrific impact on manufacturing as well as environmental protection."
Other industry groups have also criticized President Trump's proposed recycling cuts, including the National Recycling Coalition and Closed Loop Partners.
Overall, the subcommittee's proposal indicates EPA's Environmental Programs and Management fund would be cut by more than $200 million, from its 2017 funding of $2.6 billion down to $2.4 billion. That means a number of EPA programs would need to be scaled back or cut to meet that figure. Still, it's far more funding than the $1.7 billion in the president's proposed budget, which would have required about $900 million in cuts.
The proposal is scheduled for consideration by the full House Appropriations Committee on Tuesday, July 18.
The Senate Appropriations subcommittee heard an initial presentation on the president's proposed budget in June but has not yet met to discuss its own budget request for the agency.
More stories about legislation