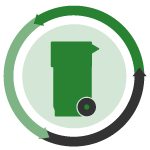 Two large cities engage in cart-tagging campaigns to raise contamination awareness, and Maine's container deposit drama continues with a state board refusing to ban the sale of small liquor bottles.
Revenue boost: Public entities in Oklahoma recycled more than 12 million pounds of material in 2016, which netted nearly $533,000 in income. According to a report from the state's Division of Capital Assets Management, that material came from 122 public entities that participated in a recycling program during the year.
Teaming up: In an effort to combat contamination in its curbside recycling program, the City of Atlanta will inspect recycling carts on certain collection routes. The Atlanta Journal-Constitution writes that the project was made possible through a grant from The Recycling Partnership and will include "oops" tags placed on contaminated carts.
Taking to task: Chicago's recycling rate hovers just below 10 percent, and the Chicago Tribune's editorial board is calling for residents to improve their recycling habits. The newspaper points to an upcoming cart-tagging program in which collection crews will note contaminated carts with "oops" tags that indicate which items in them are contaminants.
Lagging progress: Three years after a state auditor found nine areas for improvement within Hawaii's glass advance disposal fee system, only two of the changes have been addressed. The program has companies that import glass into the state pay a fee to help fund end-of-life management of glass, and Hawaii News Now reports that the system is not penciling out because glass recycling costs more than importers are being charged. The Department of Health, which oversees the program, responded to each of the auditor's findings in the report.
Waste-to-energy partnership: Dow Chemical Co. and Keep America Beautiful are working to expand a pilot program that diverts hard-to-recycle plastics into waste-to-energy processes. According to a press release, the organizations will fund two interested partners who want to start a program, through which households place pouches, food bags and plastic utensils in a special bag that goes into their curbside cart. The bags are separated at the MRF and sent to energy-recovery facilities.
Market realities: Ratepayers in Orlando, Fla. and its surrounding Orange County will see increases in their recycling bills due to the cost to process recyclables outpacing their value. Local ABC affiliate WFTV News reports Waste Management, the area's hauler, will charge $42 per ton for recyclables, which pencils out to an increase of $338,000 per year for Orlando and $430,000 for Orange County.
No agreement: Small bottles of hard alcohol known as "nips" will remain on the shelves in Maine for the time being, as the state's liquor commission has voted against a proposal to ban the sale of nips statewide. Gov. Paul LePage proposed the ban after he vetoed a legislative effort to implement a 5-cent deposit on nips and had his veto overridden. The Portland Press Herald writes that the proposal was shot down by the liquor commission by a 4-1 vote.
Cart solution: A dozen cities in Michigan's Oakland County will receive recycling carts in an effort to increase the state's recycling rate. The Detroit Free Press reports the project, which received $100,000 in assistance from The Recycling Partnership, is part of a wider goal shared by Gov. Rick Snyder to increase the state's 15 percent recycling rate.