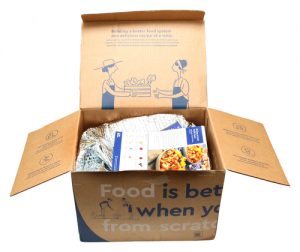 Meal kits delivered straight to your doorstep are marketed as providing fresh, healthful food in a convenient way. But they also contain a lot of non-recyclable packaging, much of which carries problematic labeling.
Numerous companies have launched to sell the meal kits, which have all of the raw ingredients, including meats, vegetables and spices, to make a full meal. They're shipped direct to consumers' homes.
Over the past few months, Sandi Childs, film and flexibles program director at the Association of Plastic Recyclers (APR), dissected kits from three different companies. She first came up with the idea after a friend told her about the kits and she ordered one.
"Being a packaging nerd, I started taking pictures of the packaging … and trying to determine the recyclability," she said.
Childs reported on the results of her project at APR's meeting in early June in Sacramento, Calif. She found that the three kits each had more than two dozen different packages, including one with 31.
In all cases, the majority of the packages were plastic, although some were fiber products. Many of the plastic packages weren't recyclable. Some were too small to make it through a materials recovery facility. In other cases, the plastic film utilized was polypropylene (PP) instead of PE. And other packaging samples were made up of multiple materials or had large paper labels.
In one kit Childs investigated, half of the plastic packaging wasn't recyclable. With the two other kits she dissected, more than three-quarters of the plastic packaging wasn't recyclable.
Fit for curbside collection?
Yet many companies were instructing consumers to deposit the film and flexible packaging in curbside containers, Childs said, although one company provided free shipping labels so consumers could mail back their used packaging. A couple of the companies have websites with recycling locators, but some aren't particularly accurate, Childs said.
"If their instructions were clearer and if they addressed some of these issues, I think they could maybe make a 40 percent, 50 percent improvement, which would be helpful," she said.
One kit used a pillow-like PET fiber blanket with a film backing to keep meat cold. The company instructed people to roll it up into a tube, affix an enclosed sticky label to hold it in place and throw it in the curbside bin.
Kara Pochiro, communications director for APR, said her group has heard from both materials recovery facilities (MRF) and plastics reclaimers that have been seeing this type of plastic insulation, although APR isn't sure whether the items always coming from meal kits.
"We've seen a few different products that are showing up at MRFs and reclaimers," Pochiro said.
Still, Pochiro and Childs emphasized the kits could be a good opportunity to help educate the public on recycling. Childs noted that some of the companies have already contacted APR's technical director, John Standish, asking about recyclability.
"It's kind of counterintuitive, but the education could be provided here," Childs said, "even if it was just about the film plastics and the paper."
More stories about challenging materials