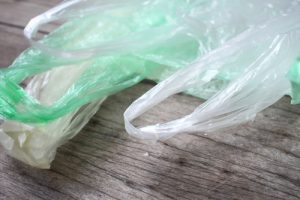 The City of Calgary's curbside recycling program has accepted plastic bags since it was rolled out in 2009, but it has faced a recurring issue: residents tossing them in the cart loose, instead of in bundles. This year, an outreach campaign aimed to address the problem head-on.
To function properly, bag collections require a bag-in-bag approach so the film can be easily separated from other recyclables in the single-stream mix. The program accepts PE film products.
At the materials recovery facility (MRF), bag bundles are pulled off the sorting line by workers, before the material has a chance to enter the equipment and cause damage. This is the same approach the City of San Antonio has taken.
The Canadian city of more than a million people reports collecting roughly 960 short tons of plastic bags each year. But local MRFs found bags were getting shredded and mixed in with paper and other commodities, or otherwise jamming up sortation equipment, a Waste and Recycling Services department spokeswoman told Resource Recycling. That's because they were arriving loose, as single bags, a problem that was also shared by San Antonio.
To address the problem, the department recently completed a public outreach campaign to remind residents of the bag-in-bag method. Before beginning the campaign in February, the City conducted an audit and found 25 percent of carts contained loose bags. During February and March, the city stressed the bag-bundling method via social media, local newspapers and residents' utility bills.
Now that the outreach effort has wrapped up, the city is auditing carts again to determine its impact.
"We've only heard of anecdotal improvements at this stage," said Sharon Howland, the city's head of Waste and Recycling Services, in a recent newsletter update. "We have a few tips for others wanting to do a similar campaign. People did not realize that they are supposed to bag their bags. Some complain and don't want to participate, others have thanked us for the tips. The main thing is to keep driving the message home."
More stories about plastics