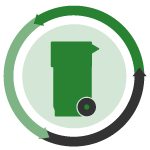 A newsprint mill using recycled materials announces it will idle indefinitely, and a handful of recycling groups and companies have issued statements in the wake of the Trump Administration's move to withdraw from the Paris Climate Accord.

Industry reacts: Several members of the recycling industry issued public statements following President Trump's announcement last week that the U.S. will withdraw from the Paris Climate Accord. Among them were The Recycling Partnership, recycled PET producer CarbonLITE, non-profit organization Keep America Beautiful and the International Solid Waste Association.
Nips showdown: Maine Gov. Paul LePage has vetoed a bill that adds small liquor bottles known as "nips" to the state's container deposit program, but state lawmakers have enough votes to override his veto. The Bangor Daily News reports LePage opposed the bill due to its cost of implementation and belief it would be ineffective. LePage previously announced he would oppose the bill, and that if the Maine Legislature overrides his veto, he would consider banning nips from shelves statewide.
Problem materials: Lowell, Mass. had a lot of contamination in its recycling program after rolling out 96-gallon carts six months ago. The growing problem led the city to work with The Recycling Partnership on an outreach effort, and an in-depth story in Governing magazine explores the results of that outreach, as well as contamination as a wider problem for recycling.
Exceeding requirements: British Columbia's container deposit program achieved a 78 percent redemption rate in 2016, according to an annual report. That was slightly higher than its legally mandated 75 percent redemption requirement but did not quite reach the 81 percent target set by stewardship group Encorp Pacific.
Indefinitely idled: A Connecticut paper mill producing newsprint from recycled fiber has been idled by its owner, White Birch Paper Co. The Richmond Times-Dispatch reports the company attributed the decision to changing market economics and declining demand.
Glass investment: Nearly 2.3 million Canadian dollars ($1.7 million USD) has been invested in glass processing equipment at a Quebec MRF. According to a press release, the money is part of the Innovative Glass Works plan by Eco Enterprises Quebec (EEQ), the organization representing brand owners in the province's extended producer responsibility framework.
Close look: Interns in a Utah municipality have been tasked with searching residents' recycling carts to check for contamination. The Herald Journal of Logan, Utah writes the interns provide feedback to residents based on what's in their carts, either in the form of educational pamphlets for those needing work or thank you notes for flawless carts.
Stepping up: Curbside collection in Knoxville, Tenn. no longer includes glass, a decision the city made to reduce contamination and increase the quality of other recyclables. Local news station WVLT TV reports residents are adapting by taking more and more glass to drop-off sites since curbside collection of glass ended.