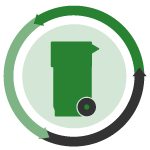 Market recovery is on display in a Colorado city, and a recycled-content manufacturer pledges major investments in the U.S.
Downstream distress: The City of Fort Smith, Ark. is landfilling materials collected for recycling after losing its downstream vendor, city officials recently announced. The Southwest Times Record reports the city did not inform residents of the move when the practice began in November because officials did not want to discourage recycling efforts and hoped to quickly find another downstream option.
Pivotal vote: Workers at ports up and down the West Coast will vote on whether to extend their current labor contract, a move that could offer some stability in the shipping industry. The Business Examiner reports the International Longshore and Warehouse Union's contract with the Pacific Maritime Association won't expire until July 2019, but an early vote to extend the contract could ease market apprehension over disruptions due to labor unrest.
Major investment: Anthony Pratt, CEO of 100 percent recycled paper and packaging company Pratt Industries, has pledged to spend $2 billion and create 5,000 U.S. manufacturing jobs. In an interview on Fox & Friends, Pratt praised President Trump and said his leadership is responsible for the company's large investment in the U.S. economy.
Market signs: Recycling markets appear to be recovering, and that is on display in Fort Collins, Colo. According to the Fort Collins Coloradoan newspaper, last month the city's haulers were paid for recyclables, instead of having to pay a tip fee, for the first time in more than two years. Haulers paid a nearly $46-per-ton tip fee in March 2016 but were paid $1.60 per ton in April 2017.
Blocking bag bans: The Pennsylvania House of Representatives passed a bill prohibiting local government bans or fees on plastic bags. House Bill 1071 was approved in a 102-87 vote and is now awaiting consideration by a Senate committee.
State budget cuts: The Minnesota Pollution Control Agency (MPCA) says a funding bill in the legislature would cut $5 million from its Resource Management and Assistance Division budget over the next two years. The cuts would harm MPCA's ability to provide statewide recycling coordination and technical assistance, according to the agency.
MRF operator bids: Eight companies withheld bids to run the materials recovery facility (MRF) for Boulder County, Colo., while three others threw their hats in the ring, according to ColoradoHometownWeekly.com. As commodity prices dropped, the county spent millions of dollars in MRF capital expenditures and in ensuring the operator, nonprofit group Eco-Cycle, was made financially whole. The local government crafted a new proposal shifting costs and market risk to the next MRF operator.