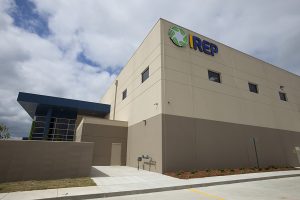 Can separation of recyclables from trash ever be a cost-effective solution? According to three experts speaking at Waste Expo, the answer depends on some critical conditions.
In a session at the WasteExpo conference in New Orleans on Monday, JD Lindeberg, Lori Scozzafava and Steve Viny expressed varied opinions about the materials recovery approach in which facilities use automation to extract recyclables from the municipal solid waste (MSW) stream.
The strategy has been a controversial topic in recycling circles in recent years as cities such as Houston, Indianapolis and Montgomery, Ala. have debated whether to ask residents to forego source-separated curbside recycling and simply throw all discards into a single bin at the curb.
However, as those initiatives have crashed or failed to get off the ground, mixed-waste processing has more recently been framed as a "last line of defense" approach that can complement well-performing source-separation efforts. Other current efforts aim to generate refuse-derived fuel (RDF) or other approaches to square the economic equation, according to the speakers on the Waste Expo panel.
The Montgomery project, which shuttered less than two years after launching, was brought up a number of times by speakers. For some, the failure of the Infinitus Renewable Energy Park (IREP) was the ultimate sign that mixed-waste MRFs cannot serve as the backbone of a municipal program.
Lindeberg of consultancy Resource Recycling Systems (RRS) said IREP leaders just weren't realistic about system capabilities.
He explained that when you look at what's recoverable in a typical MSW stream and then factor in decreases in yield from contamination and inevitable efficiency downturns at a facility, the maximum recovery rate a mixed-waste facility could achieve would be around 51 percent. But IREP and others were built on the promise of recovering far more than that, Lindeberg said.
"Some of these hyperventilated recycling rates just aren't possible." he noted. "And the stuff you don't recover has to go to landfill. So not only are you not getting revenue, you're seeing a cost."
Operator experience a key factor
Viny, who operates mixed-waste company Envision Holdings in Ohio, had a different take.
He said IREP's failure should not cause decision-makers to dismiss the mixed-waste approach entirely, noting that in his 21 years operating a site in Ohio's Medina County, he never had a load of recyclables rejected by a downstream buyer. He chalked up IREP's demise to the fact its operators had never run a materials recovery operation.
"They did not have experience and were relying on a black box," Viny said. "That, in my opinion, is a recipe for disaster."
Viny said that when operators understand the needs of commodity buyers and operate optimized processing lines, they can make the strategy pencil out. He also said he's aware of around 15 new mixed-waste projects currently in development – some of them standalone facilities and others that work alongside traditional curbside systems or in concert with anaerobic digestion or refuse-derived fuel (RDF) technologies.
"I truly believe we'll see more," he said.
The future of Viny's own Ohio operation has been in limbo for some time. When Envision's contract with Medina County expired in 2015, the county opted to discontinue using the site, moving to a drop-off program instead. Envision has recently proposed putting $11 million worth of equipment upgrades into the site to allow it to reopen.
"My understanding is county commissioners have approved the RFP to reopen the facility," Viny said at the session. "The way you processed waste in 1993 is very different than what you use today. That's why our recommendation was to utilize all new equipment."
'Big black eye'
Scozzafava of consultancy Gershman, Brickner & Bratton (GBB) acknowledged that the IREP situation "created a big black eye in the industry." But she also stressed the mixed-waste approach can work if implemented with precision and planning.
She offered the example of the Entsorga West Virginia facility, which she said is expected to be coming on-line very soon in Martinsburg, W.V. At that site, MSW will be processed to recover some materials and use the remaining stream to produce an engineered fuel.
She also pointed to development of technology that allows processed waste to be efficiently pelletized and sold as a fuel to cement kilns. She said her analysis had found 107 such cement operations in the U.S., many of which often use coal as an energy source.
"Being able to substitute with something that comes from garbage holds appeal," she said. "I've spoken to several companies that are very interested."
Though Scozzafava expressed optimism in operations that don't just rely on traditional recycling markets, she did make it clear mixed-waste facilities of any kind will only work in certain areas. Critical factors that need to be in place include dependable markets, a long-term arrangement for reliable volumes of incoming material and the political will to invest in the strategy.
"The moon and stars need to align," she said.
Lindeberg said according to his company's research, eight mixed-waste sites are currently being built or in consideration in the U.S. Of those, half are in California. He said the Golden State's aggressive push to reach 75 percent materials recovery is pushing efforts like the Oakland-area facility that will target materials that slip through existing curbside systems, and he acknowledged similar sites could be seen in other areas with mandated goals.
But he also said those jurisdictions are relatively few and far between.
"In the heartland of the country where tip fees are 20 or 25 bucks a ton," he said, "it's not going to fly."