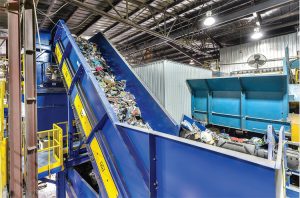 The ton has done a lot of evolving over the past three decades. And to better manage the changing composition of incoming materials, EBI Environnement made major upgrades to its MRF last fall.
The Quebec-based company installed a ballistic separator, optical sorters and other equipment to do primary sorting of single-stream materials. The roughly $2.25 million upgrade from equipment company Machinex has boosted throughput and product quality.
"With our new equipment we can increase the overall quality of material recovered, particularly with fibers, plastic and aluminum containers," Audrey Castonguay, director of communications at EBI, stated in a press release.
The 50,000-square-foot facility sorts material drawn from about 60 municipalities and from industrial, commercial and institutional generators. EBI, which has been in business for 50 years, also has a hauling division that services some of those material providers.
All incoming material is collected in a single stream, except for clean commercial OCC. About 70 percent is fiber and 30 percent is commingled containers.
As far as equipment is concerned, last fall's major upgrade included the introduction of a Mach Ballistic separator to sort fibers and containers and remove fines. The project included a ferrous metal magnet and eddy current separator. Lastly, the investment added three Mach Hyspec optical sorters.
"Optical sorting has become a major component of MRF upgrades since it can sort a large quantity of materials within a short period of time and obtain a higher quality," noted David Marcouiller, Machinex's executive vice president of sales engineering.
The first Mach Hyspec optical sorter, which cleans the fiber stream, was installed to provide flexibility to adapt to shifts in materials usage and changing markets, Castonguay said. That dual-eject unit has the ability to recognize boxboard of any color and sort it together with or apart from OCC (EBI is using it to separate them).
The second optical sorter separates PET and fibers, and the third optical sorter sorts HDPE and mixed plastics.
All together, the upgrades made the facility "one of the most sophisticated and technically advanced MRFs in Quebec," according to Machinex. And the MRF is one of five facilities in Quebec involved in an innovative glass pilot project.
Like many other MRFs, the facility's biggest challenge is plastic bag contamination, according to the company.
The facility employs 42 people, including directors, on one shift Monday-Friday.
This article originally appeared in the April 2017 issue of Resource Recycling. Subscribe today for access to all print content.