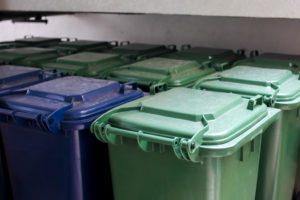 Forty-one states are awarded grants for recycling bins in public parks, and a Southwest state begins accepting applications for its $800,000 grant program.
Parks receive bins: A partnership between Dr. Pepper Snapple Group and national nonprofit Keep America Beautiful awarded 41 grants to local governments and community organizations for recycling bins in public parks. The grants include 914 recycling bins that will be installed this year.
Developing markets: The Indiana Department of Environmental Management is accepting applications for its Recycling Market Development Program, which provides grants ranging from $1,000 to $500,000 and requires a 50 percent match. The program selects projects that lead to an increase in collection, a decrease in disposal, or improved partnerships with communities. Applications are due May 10.
EPA funding: The U.S. EPA Region 5 is offering $100,000 for projects in two categories: "demystifying potential Midwestern recycling end markets through collaboration," and "reducing wasted food in a tribal community." Applicants in Illinois, Indiana, Ohio, Michigan, Minnesota, and Wisconsin are eligible to apply for the grants. Proposals are due June 1.
Equipment grants: The Nebraska Recycling Council has received $292,800 to fund its recycling equipment grant program, which is open to government agencies, schools, nonprofits, companies and more. The council will use the money to provide small grants limited to $15,000 each for purchase of recycling bins, totes, balers, trailers, loaders and other recycling equipment.
Versatile grant funds: The New Mexico Solid Waste Bureau is accepting applications for its 2017-18 Recycling and Illegal Dumping Fund Grants, which can be used for a wide variety of recycling-related purposes. Up to $800,000 is available, two-thirds of which will be allocated to tire abatement and recycling programs while the remaining one-third will go to abatement of illegal dumping and recycling of other solid wastes.
Schools earn grants: PepsiCo awarded a total of $50,000 to eight colleges and universities for a variety of environmental programs, through the company's Zero Impact Fund program. Winning campus projects included expanding food waste collection, demonstrating effective single-stream recycling in a campus setting, increasing materials collection during campus move-out season and more.
Ohio awards dollars: The Ottawa, Sandusky, Seneca Joint Solid Waste Management District of Ohio funded projects from eight organizations within its district, many of which will either create or expand recycling programs. A total of $40,000 was provided during the recent grant period.