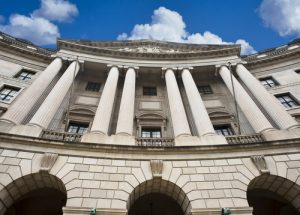 Former employees of the U.S. EPA have attacked Donald Trump's funding proposals and unearthed documents showing the administration wants to chop the agency's recycling and waste reduction efforts by 20 percent.
President Trump's budget blueprint, released this month, proposes a 31 percent cut to EPA as a whole in fiscal year 2018, reducing its staff by 3,200 positions. The shock from that figure, the largest percentage cut to any agency in the budget, has generated apprehension among those connected to the agency.
"I'd say 'concerned' is the understatement of the century," Sara Hartwell, who retired from the EPA's Office of Resource Conservation and Recovery in 2014, said in an interview. "It's like a funeral. People are really devastated."
Hartwell offered her take on what the funding cuts could do to the agency shortly after the release of a document prepared by a group called the Environmental Protection Network (EPN), which is made up of of more than 75 former EPA employees. Hartwell is not a member of that group.
The 51-page analysis from EPN cited not only the budget blueprint but also more detailed figures allegedly included in a preliminary internal budget document called a "passback" that specifies line-by-line cuts and instructions to EPA.
According to EPN, EPA's Resource Conservation and Recovery Act (RCRA) activities were slated for cuts in the passback budget document. The analysis cited a proposed 12 percent cut to the RCRA corrective action program's fiscal year 2016 funding level, down to about $32.5 million.
Recycling and waste-minimization activities would be cut 20 percent, the analysis states, down to $7.1 million. General waste management activities would also be cut down to about $52.5 million, an 11 percent decrease from its fiscal year 2016 funding level.
The White House Office of Management and Budget (OMB) did not respond to a request from Resource Recycling to confirm the accuracy of the figures cited in the analysis.
WARM out in the cold
Hartwell, meanwhile, pointed to a handful of EPA recycling efforts that would likely be threatened if the budget cuts go through as proposed. Programs connected to climate work would be particularly endangered, as the budget blueprint makes clear "climate change research and partnership programs, and related efforts" would be cut altogether.
On Tuesday, Trump planned to sign an executive order that begins dismantling EPA's climate change efforts.
Hartwell identified the Waste Reduction Model (WARM) as potentially in danger due to its association with climate change. WARM is used to estimate the impact of different waste management strategies, comparing recycling with landfilling, for instance. The benefit of one system over another can be expressed in two ways: energy conservation and greenhouse gas (GHG) emissions.
Over the years, EPA found WARM users better utilized the information when it was expressed as avoided GHG emissions.
"So everybody had worked really hard over the last decade – decade and a half – to position it in terms of a GHG benefit," said Hartwell, who used to manage the WARM program. "And I think that puts it squarely in the target."
The WARM system is designed for use by solid waste planners, but it has proven useful to corporations and other private sector entities as well. For example, Waste Management utilized WARM when it developed its life cycle analysis modeling quantifying the environmental benefits of recycling various materials.
Court-ordered mandates
The former EPA employees' analysis indicates the agency would be operating at its lowest inflation-adjusted funding level since the mid-1970s, and it would have its lowest number of employees since 1984. At the same time, the analysis points out that "since 1990, legislative mandates to EPA have increased dramatically, imposing significantly more responsibilities."
Hartwell said there are certain activities EPA is required need to undertake.
"Enforcement's being cut back, but even though enforcement's being cut back, there's all kinds of stuff out there that has court-ordered deadlines associated with it," Hartwell said. "And reducing the budget does not make that court-ordered deadline go away."
The money provided to the EPA would, therefore, fund mandated programs first, leaving some voluntary efforts unfunded. The agency's sustainable materials management (SMM) work is not mandated by law, potentially placing it on the backburner.
"I think the municipal waste side will fare very badly in all of this, worse than a lot of other things because there are no regulatory hammers, there's no court-ordered deadlines," she said.
Beyond EPA
Cuts to other federal programs could also affect recycling.
Hartwell referenced the Manufacturing Extension Partnership (MEP) program, budgeted through the Department of Commerce. The program is a collaboration between the Department of Commerce and EPA, which together consult with small- and medium-sized businesses to help them reduce waste and increase recycling.
The budget blueprint would cut all federal funding from the MEP program, shifting its funding responsibility entirely to states. Federal funds currently subsidize half the cost of state MEP centers, according to the blueprint.
EnergyStar, a collaborative effort jointly run by EPA and the Department of Energy, is proposed for elimination in the 2018 budget as well.
What's next
According to the EPN analysis, the internal budget document instructed EPA to submit a plan by March 31 to eliminate the 3,200 positions and to pick two regional offices by June 15 that could be targeted for closure.
Although the cuts are not certain and lawmakers on both sides of the aisle have opposed some of them, they make clear the administration's view of EPA's work.
"It sends a message that says you are not valued, and your work is not valued, and the last three decades of your life have not been valued," Hartwell said. "It's really, really, really demoralizing."
The administration's final budget proposal will reportedly be released in May.