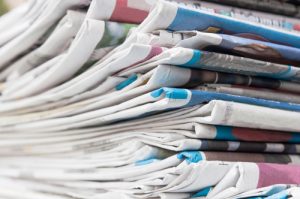 Climbing recycled paper prices contributed to the recent idling or closure of two newsprint mills, one in North America and one in Asia.
Resolute Forest Products announced March 10 it would shutter its Thorold, Ontario mill, taking more than 215,000 tons of newsprint production capacity off-line and leaving more than 100 workers without a job. The mill uses 100 percent recycled furnish in producing its newsprint.
"The difficult decision to proceed with the indefinite idling is driven by the ongoing significant decline in North American newsprint consumption, coupled with the increasing cost of recovered paper," Resolute said in a release.
Responding to the declining newsprint demand, Resolute said it's working with a separate company, Stone House Investments Holdings, which wants the newsprint mill to restart producing more profitable products. The St. Catherines Standard newspaper reported the plan is to convert the facility into a kraft paper production mill.
The Canadian idling followed Resolute's February announcement that it would close its only other mill using entirely recycled content for newsprint.
Company spokesperson Seth Kursman said the mill in Mokpo, South Korea had been facing financial difficulties since 2010, was restructured in 2011 and received a $10 million investment from Resolute in 2014. With the funds, the company aimed to increase the Mokpo operation's product quality and increase its profitability, Kursman said.
"Unfortunately, due to the deteriorating market environment, rising prices of recycled fiber, as well as increased competition in Asia, there was no viable option for the mill," Kursman said.