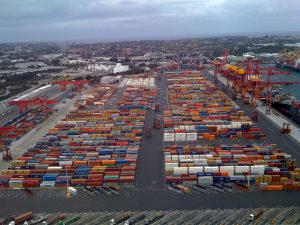 China's recent crackdown on scrap material imports has exposed smuggling operations, led to dozens of arrests and resulted in the confiscation of more than 22,000 tons of material.
Three weeks in, the effort often translated into English as "National Sword 2017" is being regarded as an updated iteration of Chinese customs policies that have had major recycling repercussions in recent years, according to Steve Wong, executive president of the China Scrap Plastics Association (CSPA) and chairman of plastics recycling company Fukutomi.
"Some regard this campaign as the second Green Fence," Wong wrote in a market report sent to Resource Recycling and other media outlets.
Although the enforcement campaign will technically run for one year, "this policy will become a 'new normal' for China in the future," Wong wrote in his Feb. 27 report, which was based off information presented on Chinese state TV.
Launched Feb. 7, the action is being carried out by China's General Administration of Customs (GAC) and is targeting imported waste, including scrap plastics and electronics.
The enforcement campaign reflects the Chinese government's intent to crack down "on all recycling operations without proper controls and facilities," Wong said. It is focused on materials causing severe pollution because of improper recycling at ill-equipped facilities, he said.
Wong will speak at next week's Plastics Recycling 2017 conference during a session focused on changes in China's plastics recycling market.
First three weeks
The campaign has implemented customs checks on all imported materials, which Wong estimated could quadruple the lead time between purchase and consumption of recyclable materials. Some shipments have been returned to their country of origin, he reported.
Many forwarding agents have suspended their operations due to the action, Wong said, and customs declaration agents along with illegal shipment importers have been arrested.
Enforcement officials are conducting  inspections of processing factories and have reportedly suspended operations at facilities using improper water-treatment processes. They are also investigating fraudulent license usage, such as companies farming out their permits for money without doing any actual processing, Wong said.
GAC carried out nationwide action on Feb. 24, targeting nine ports. Authorities arrested 90 suspects, confiscated 22,100 tons of foreign scrap material and exposed 15 smuggling operations, Wong said.
There were 831 police personnel divided into 48 groups deployed during that action, according to Chinese state TV.
Impacts on legitimate operators
The enforcement action, which has also been translated as "Sharp Sword at the Gates of the Country 2017," was launched due to public pressure on the problems posed by illegal waste imports into China. Through its execution, the government aims to "protect the ecology and maintain people's health and safety," Wong reported, based on statements from GAC chief Yu Guangzhou.
Despite the strict enforcement, recycling is still being encouraged, Wong said. Although the campaign will certainly increase costs for legitimate recycling companies, he said it will also benefit them by removing "the unfair advantage gained by illegal operators."
It will also likely have long-term impacts on the type of materials imported into China, Wong said.
"The future trend we believe will be to restrict imports of solid waste but allow non-polluting scraps such as recycled regrinds and pellets which can be used directly for production," he said.