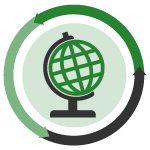 A woman is fined for trying to recycle cardboard, and a beer company creates sand from used bottles.
New Zealand: Brewing company DB Export will begin turning its glass bottles into man-made sand that can be used for consumer and industrial purposes in lieu of natural beach sand. According to a press release, beach-dredged sand is used heavily in New Zealand's road building, commercial and residential construction and more.
England: A 60-year-old Cambridge woman was fined 240 British pounds (nearly $300) for placing a cardboard box next to an overflowing recycling bin, which local authorities determined constituted illegal dumping. The Cambridge News reports that the perpetrator relies on disability benefits, and her story prompted outrage at the city's decision to fine her for attempting to recycle.
India: Students participating in a science, technology, engineering and mathematics (STEM) club collected more than a ton of materials for recycling in 20 days, as part of "Trash Trek," a U.S.-based competition. The Better India news website writes that the team, made up of 10 12-year-old students, successfully encouraged some 800 students to separate recyclable materials from garbage, and club members would then collect the materials for recycling.
Wales: People wearing banana costumes will spread the word about food waste, aiming to encourage citizens to divert more of their food scraps from disposal. According to the BBC, Wales already diverts half of its food waste, leading the United Kingdom in that arena.
Ireland: Contamination caused inspectors to halt 160 containers of recycled materials bound for China. NewsTalk radio reports the rejected containers, which were stopped in the Netherlands, cost the Irish waste industry some 500,000 euros (about $529,000) as some were returned to Ireland and others were processed on-site in the Netherlands.