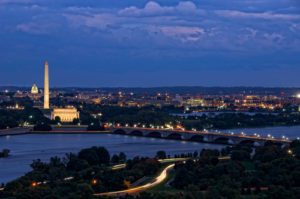 Washington, D.C. is taking steps toward its newly adopted goal of decreasing the amount of material it sends to disposal. One hurdle was completed last week with the release of the District's first solid waste diversion report.
The District's citywide residential diversion rate was nearly 21 percent during the 2015 fiscal year, according to the report. That rate includes waste diversion activities handled through the municipal Department of Public Works (DPW), private collectors and other agencies.
The citywide figure is a new calculation. A different measurement, called the residential recycling diversion rate, only considers material collected by the DPW. That rate was 28.46 percent in 2015, 7 percentage points higher than it was five years earlier.
Many of the District's efforts over the previous two fiscal years were in response to the Sustainable Solid Waste Management Amendment Act of 2014, which required the implementation of waste-diversion policies. The legislation's goal is to get the District, which has a population of about 672,000, up to 80 percent waste diversion through recycling, reuse, waste prevention, composting and anaerobic digestion.
To bolster diversion efforts, the District created two new entities: the Office of Waste Diversion, as well as an interagency group that brings together several District departments that are tasked with carrying out the law's mandates.
The District's goals for the coming year include issuing a list of materials that are banned from disposal, requiring manufacturers to reduce electronics and paint waste and to provide more convenient collection options and increasing public outreach.
While it's still early in D.C.'s waste diversion goals, Chris Weiss, executive director of the nonprofit D.C. Environmental Network, praised the report as a critical step in reducing the District's waste.
"The District's solid waste diversion report reflects increased transparency and reflects movement by the District towards creating a more defensible citywide residential diversion rate and corresponding per capita waste generation baseline," Weiss said in a statement.