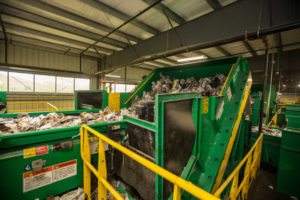 A newly opened materials recovery facility is employing a host of sortation technologies to separate curbside materials from households in one of America's largest cities.
The FCC Dallas MRF, designed by equipment provider Van Dyk Recycling Solutions, is capable of sorting 30 to 35 tons per hour of single-stream material. It officially opened earlier this month after a two-week testing period in December.
The 60,000-square-foot facility is one of FCC Environmental Services' first MRFs in the U.S. The company is the U.S. subsidiary of FCC, a Spain-based global environmental services, infrastructure and water management company.
How materials are treated on the line
The MRF's line includes a series of star screens from Lubo Systems that separate OCC, glass, other fibers and containers, according to a Van Dyk Recycling Solutions press release. It includes the company's newest offering, an anti-wrapping ONP screen that's 13.3 feet wide and includes 440 stars.
Also included are four Tomra Autosort 4 optical sorters. Mark Neitzey, director of sales for Van Dyk Recycling Solutions, told Resource Recycling that the first sorter is ejecting fiber from the container stream, the second is ejecting PET, the third is ejecting both natural and colored HDPE (natural is later sorted by hand) and the fourth is ejecting plastics coded Nos. 3-7. The fourth sorter is also programmed to eject aseptic cartons or PP in the future, if the customer chooses to, he said.
"A unique feature is that after the commingled line the remaining residue stream is conveyed back to a recovery track on the first Titech optical for maximum recyclable recovery," he said.
That first sorter, he noted, is actually a split-track unit: The right side is a 6.5-foot-wide track ejecting fiber and the left is a 2.5-foot-wide track targeting plastics or metals that made it into the residue stream.
The system also includes an overbelt magnet, eddy current separator and a Walair glass cleanup system, which produces four fractions. The facility uses a Bollegraaf HBC-120S baler.
Breaking into U.S. market
In November 2015, Dallas awarded the contract to FCC Environmental Services to build and operate the MRF. The design was intended to help the city meet its goals of a 40 percent diversion rate by 2020, 60 percent rate by 2030 and 80 percent rate by 2040, according to an FCC Environmental Services press release. The Dallas contract is for 15 years, with the possibility of an extension for 10 more years. Waste Management previously held the contract to sort Dallas' recycling.
In November 2016, University Park, a Dallas suburb, also awarded the company a contract to sort and market its material. That contract is for five years, with possible extensions totaling five more years.
FCC Group operates more than 50 MRFs similar to the Dallas one around the world. Only in recent years has the company entered the U.S. market, however. FCC won municipal solid waste collection contracts in Orange County, Fla. and Polk County, Fla. in 2015 and 2016, respectively. In 2014, it won a contract from Houston to manage sewage sludge.