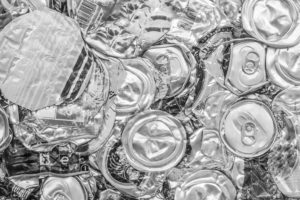 Aluminum giant Novelis reported that its use of recycled inputs has now crossed the 50 percent mark.
During the 2016 fiscal year, the Atlanta headquartered company reached 53 percent recycled inputs, its highest to date, according to its latest sustainability report. The number is up from 49 percent in 2015 and 46 percent in 2014. Novelis uses as a baseline for comparison the average 30 percent recycled inputs over the 2007-09 period.
During the 2015 fiscal year, the company launched its Evercycle product, a 100 percent recycled-content beverage can (90 percent post-consumer content and 10 percent production scrap). It also began incorporating a high-recycled-content type of aluminum into Jaguar Land Rover vehicles in 2015. The 75 percent recycled-content aluminum alloy is also available for sale to other automakers.
Novelis's 2016 sustainability report noted a bit of a conundrum for the company: Increasing its recycling and automotive sheet production also increases its overall energy usage, which runs contrary to its sustainability goal.
"Both of these are energy-intensive activities that also add additional steps to our existing production processes," according to the report. "As a result, they have the potential to offset energy-use reductions we achieve elsewhere in our operations."
As a result, Novelis doesn't expect to meet its previously established energy usage targets for 2020. That being said, the use of recycled content is a key driver in reduction of carbon emissions from primary aluminum production, according to the company. Novelis is no longer involved in the production of primary aluminum — while it does create its own recycled-content material, it buys virgin aluminum from other producers.
"As the pace by which we increase our use of recycled inputs moderates, we expect to see a similar moderated pace of reductions in our absolute (greenhouse gas) emissions," according to the report.