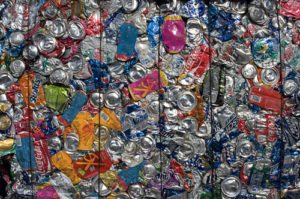 Recovered materials processors have received a little holiday cheer. The value of most recyclables moved higher at the start of this month.
For example, quotes from various buyers of scrap packaging show buyers are willing to pay about 67 cents per pound for aluminum cans, up 3 cents per pound from November (prices are for a truckload of bales picked up in the eastern U.S.). This represents the fourth consecutive month that bale prices have risen.
In a similar vein, many domestic and foreign steel mills got caught in a scrap supply squeeze at year's end. Due to a modest increase in demand of new steel and low on-site scrap inventories, mills were forced to push up prices by $20 to $30 per gross ton in November. But even this was insufficient, and scrap consumers moved prices higher by $40 to $50 per ton in early December. For some grades, prices are at two-year highs.
Also reporting an upward price movement are suppliers of recovered paper.  According to RISI, domestic and foreign recycled paperboard mills have been able increase their sales price by about $40 per ton at a time of low bale inventories.  With better-than-expected demand, some producers were caught in a bale price squeeze as the year ended, and the value of old corrugated containers and mixed paper rose.
In addition, Asian buyers were eager to receive import loads from North America in anticipation of Asia's traditional Lunar New Year mill shutdowns, this year in late January.  This all resulted in an anomalous market, given that the glut of fiber due to holiday spending usually helps push bale prices down in November and December.
Market improvement, however, is not uniform. Collectors of scrap plastic packaging are not reporting similar price increases. The value of baled milk jugs, at about 24 cents per pound, is down 4 cents per pound from the previous month. In comparison, the price paid for colored HDPE containers fell a whopping 8 cents to about 15 cents per pound.
PET bottles remain in a rut, with prices at the 10-cent-per-pound range, essentially remaining the same since August.
But even plastics might see a price surge. As most industry members know, the key determinant of the value of resins is the cost of natural gas and oil. For a variety of reasons, including more price discipline by OPEC countries, the value of crude oil rose this week to its highest level of the year.