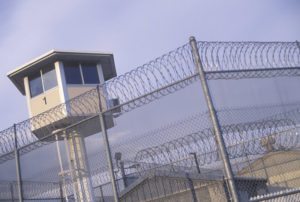 UNICOR, also known as Federal Prison Industries, has shut down its electronics recycling facilities at several prisons across the country, leaving a sizable gap in the U.S. e-scrap recycling chain.
Resource Recycling has learned UNICOR will close its e-scrap recycling operations at five prisons across the country. The closures will occur in New Jersey's Fort Dix; Tucson, Ariz.; Marianna, Fla.; Lewisburg, Pa.; and Leavenworth, Kan.
Jill Tyson, a spokesperson for UNICOR, said a final decision hasn't been made on whether the closure at the Kansas site will be permanent. She said the entity will continue to operate electronics recycling operations at prisons in Atwater, Calif. and Texarkana, Texas as well as open a new recycling facility at the prison in Schuylkill County, Pa.
According to a second UNICOR spokesperson, Justin Long, UNICOR facilities had been processing a total of 30 million to 40 million pounds of material annually.
UNICOR is a work program for federal inmates. In addition to electronics recycling, prisoners make mattresses, office furniture, clothing, accessories and other durable goods. Prisoners also provide call-center support and handle other customer service operations as subcontractors. Those divisions of UNICOR that do not pertain to electronics recycling appear to be continuing on as normal.
In 2010, UNICOR was investigated by the U.S. Department of Justice for exposing inmates to toxic chemicals at e-scrap recycling facilities. UNICOR has also been sued over worker safety and environmental conditions at its e-scrap recycling facilities.
Another market casualty?
The prisons serving as e-scrap processing sites do not typically charge municipalities and other entities for dropping off the material. And unlike many other processors, they generally do not have financial backing from equipment manufacturers or state e-scrap programs.
The facility at Atwater was an active collector under the California Department of Resources Recycling and Recovery electronic waste management program from 2005 to 2010, but it is currently listed as inactive.
As commodities markets have tightened in recent years and CRT glass struggles have intensified, UNICOR's collect-for-free methodology likely became untenable.
Long said UNICOR decided to "consolidate operations to fewer factories to improve capacity utilization and reduce costs."
The narrative of UNICOR's closed Tuscon site serves as an illustration of the issues around the economics of prison processing as well as the ripples from the closures.
The Tuscon operation, which had been processing 2 million to 3 million pounds annually, abruptly shut down over the summer. That was an unwelcome surprise for suppliers, such as New Mexico's South Central Solid Waste Authority (SCSWA), which is based in Las Cruces.
"We got a notification … in July after I contacted them to pick up a ready load of electronics that we already collected and prepared for shipment," Keysha Burton, recycling coordinator for SCSWA told Resource Recycling. She was informed by prison representatives the facility had already shut its doors and the warehouse was no longer accepting shipments.
Burton said she was dismayed and frustrated by the abrupt closure — and was also a little panicked.
"So here I was with 26 pallets of electronics prepared for outbound delivery that were just sitting in our bay," she said. Those pallets contained 15 tons of material, and the number grew to 48 pallets before Burton was able to find another processor, Oklahoma-based Natural Evolution, several weeks later.
UNICOR had accepted the SCSWA material at no charge, which allowed the 200,000 residents SCSWA serves to drop off electronics for free. That has now changed.
Residents are now charged a $5 handling fee to drop off a TV, CRT or otherwise. In addition, they are restricted to no more than three units per household, per day. That's because Burton still hasn't found a processor — Natural Evolution has also stopped accepting CRTs — that will take the material.
"We will have to landfill [the TVs] until we can find a processor," Burton said. SCSWA was getting about 400 CRTs every month. That has decreased since the fee was implemented.
Sent CRTs to defunct processor
According to the Federal Bureau of Prisons, ending the e-scrap recycling program at the Tucson prison was a business decision.
SCSWA's Burton said UNICOR was a victim of the foundering CRT market.
According to SCSWA representatives, the UNICOR facility in Tucson was sending its CRT to Closed Loop Refining and Recovery, which has since gone out of business.
"In speaking with UNICOR [after the closure] I did inquire to see if they were using any of the processors who were closing their doors … or abandoning their facilities," said Burton. "And they did tell me that was part of the problem, that the CRT glass vendor they had had abandoned their facility and they had nowhere else to take the material."
UNICOR's Long said UNICOR currently sends CRT to contracted, certified vendors for processing, but he didn't provide names.
UNICOR receives no taxpayer money. It is a government-owned company operated by the Department of Justice and is self-funded, earning money from the sale of its goods, mostly to the federal government. It has been criticized for having an unfair advantage over other manufacturers and e-scrap processors who are also bidding on contracts, and it lost millions last year in operating dollars.
U.S. Rep. Bill Huizenga (R-Michigan) introduced a bill in 2012 requiring UNICOR to compete for federal contracts. The bill would have also required UNICOR to give prisoners higher wages. The bill did not make it out of committee.