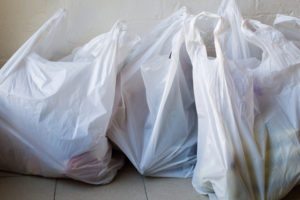 A statewide ban on local bag bans is close to becoming law in Michigan. Senate Bill 853 prohibits local governments from banning plastic shopping bags or mandating fees for them. The bill is awaiting the governor's signature.
The bill was passed earlier this year by the state Senate and passed last week by the House of Representatives. Both chambers are controlled by Republicans.
The bill also covers bottles, cups and other packaging used for take-out at restaurants, or any other packaging used to protect or transport items from retailers.
The Michigan Recycling Coalition (MRC) describes this as a pre-emptive strike against Washtenaw County, which has an ordinance set to take effect April 2017 that would charge 10 cents for all paper and plastic bags handed out at grocery stores, restaurants and other retailers. If Republican Gov. Rick Snyder signs the bill into law, Washtenaw County's ordinance becomes moot.
MRC is encouraging people to call Snyder to share their opinion of the bill.
If the bill is signed, Michigan will join Arizona, Florida, Idaho, Indiana, Missouri and Wisconsin in passing statewide bans on local bans.