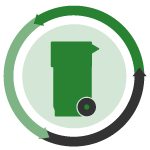 Officials in one Michigan county are calling their new curbside program a success, and a large Canadian city bans plastic bags.
Cart improvement: Residents in Emmet County, Michigan have been using curbside recycling carts now for just one month, but officials are already pleased with the results. The amount of material collected in July 2016 is up 25 percent from July 2015, and the setout rate is up 6 percent.
Recycling reprieve: The Far West Recycling facility in Lake Oswego, a suburb of Portland, was scheduled to close at the end of August. But the Portland Tribune reports the company worked out a lease agreement with the landlord and will try other cost-cutting measures.
Bag ban: The Montreal City Council has passed a plastic bag ban. The ban applies to plastic bags less than 50 micrometers thick, unless they are used to store meat, vegetables, fruits or other food, notes the Montreal Gazette.
Recycling junk: Several junk removal companies in Southern California recently revealed a little bit about their businesses to the San Diego Union-Tribune. Between stories of treasures found and disgusting surprises, they revealed about 70 percent of the material they collect is either donated or recycled.
There's an app for that: Consumer Affairs reports on a new smartphone app that helps people decide what to do with their unused stuff. Instead of throwing it away, the app might suggest a local recycling or reuse facility.
Boosting diversion rates: A County in Ontario, Canada is discussing ways it can boost its diversion rate and get organics out of landfill. One of the ideas being considered is a mandatory rule that would require a green bin to be set out in order for garbage to be collected, reports Barrie Today.
'Trash is for Tossers': The latest episode of The Huffington Post's #PowerShift series explores zero waste and how millennials are embracing the concept and living waste free.