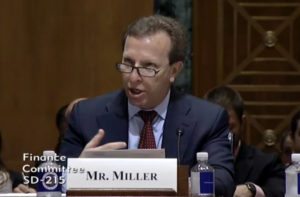 Expanding and extending tax credits for biogas would help spur investments in anaerobic digestion and related composting technologies, the CEO of Bulk Handling Systems told U.S. senators last week.
Steve Miller, CEO of Eugene, Ore.-based BHS, spoke on June 14 at a U.S. Senate Finance Committee hearing on energy tax policy.
Recycling equipment manufacturer BHS is involved in anaerobic digestion equipment through its Lafayette, Calif.-based company Zero Waste Energy LLC. The company's systems derive biogas from organics in the municipal solid waste stream, using it to create electricity or power collection trucks running on natural gas. Residual solids are used to create compost.
Miller noted increased investments would divert more material from landfill, create high-paying jobs domestically, increase renewable fuel production and yield more compost for agriculture.
In his testimony, he called on Congress to extend tax credits for his company's technologies consistent with what lawmakers in December provided for wind and solar power. While wind and solar received long-term tax credit extensions, biogas credits were extended only to the end of this year and only applied to the energy portion of the project, not the composting portion, he said.
"Since development of such a project takes several years, the early expiration of the credit makes the value extremely limited from a planning and development perspective," he told lawmakers.
He asked for a five-year energy production tax credit for biogas technologies, with a per-kilowatt-hour credit on par with wind power. He asked lawmakers to allow biogas used as transportation fuel to qualify for credits (currently only gas used to generate electricity qualifies). Additionally, he proposed expanding the tax breaks to include compost technologies.
Miller was invited to testify by Oregon Democratic Sen. Ron Wyden, ranking member of the Senate Finance Committee. At the hearing, Wyden asked him about the importance of long-term tax credits to his business.
"If we know those credits are going to be there, we can rely upon them and we can fund them. It's really that simple," Miller said. "If we can't see what's going on in the future, we just can't get the financing needed for these projects."