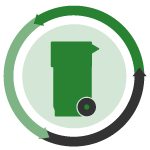 Regulators in California bring the hammer down on a Los Angeles-area redemption center for alleged labor law violations, and Minnesota moves to revoke a metals recycling company's air quality permit.
Labor law: Government regulators cracked down on an Orange County, Calif. recycling company, alleging it cheated its employees out of pay they were owed, according to The Orange County Register. Sanchez Recycling, in the Los Angeles area, was ordered to pay $113,000 in back wages and damages.
Air pollution: Minnesota regulators are taking the rare step of revoking an air quality permit for a metals recycling company, 5 Eyewitness News reports. The Minnesota Pollution Control Authority is revoking the permit for the Minneapolis-area Northern Metal Recycling, saying it either wasn't truthful when it first applied for the permit in 2012 and/or it has added or changed emissions sources since the permit was first issued.
Bag fees: A bill passed by a committee in the New Jersey Assembly would require stores to charge 5 cents for each plastic and paper bag they distribute, NJ.com reports. Sponsors of the bill, A3671, had previously proposed a flat-out bag ban but have opted for a fee instead.
Plastic waste reduction: Rolling Stone covers efforts by musicians and venues to reduce the use of single-use plastic cups and utensils at major concerts. Jack Johnson and numerous other musicians are taking steps to reduce or eliminate single-use plastic items at their live shows.
Food waste: NPR reports that nonprofit and government agencies held an event in Washington, D.C. with a celebrity chef preparing meals for 5,000 people using only food that would have otherwise been trashed.
Recycling fee protest: A St. Petersburg, Fla. couple risks having their water shut off because they're refusing to pay the $2.95 recycling charge on their water bill. Fox 13 News reports the residents believe they shouldn't have to pay the fee because they won't use the recycling service.