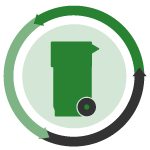 An Australian state will introduce a container deposit program next year and a city in Nebraska considers a landfill ban on paper.
Bottle bill: New South Wales has become the third Australian state to pass container deposit legislation. Starting in July 2017, the state of roughly 7.5 million people will attach a 10 cent deposit on most drink containers, including plastic bottles and aluminum cans.
Glass recycling: The Glass Packaging Institute (GPI) has announced it has partnered with packaging and recycling stakeholders to form the U.S. Glass Recycling Coalition.  The group will aim to "make glass recycling a successful industry, and an efficient, high-quality and convenient service consumers want and expect," GPI said in a press release.
Mattress recycling: Rhode Island's mattress recycling stewardship program has officially begun. Joining California and Connecticut, Rhode Island now charges consumers a $10 recycling fee attached to the purchase of every new mattress. The program is expected to lead to the recycling of 65,000 mattresses annually.
Landfill ban for paper: City officials in Lincoln, Neb. are reportedly drafting an ordinance that would place a landfill ban on paper. The proposed ban, which is aimed at increasing recycling in the area, would first apply to cardboard and then expand to include newspapers in 2018 and all recyclable paper products by 2019.
Legislation: The Florida legislature has passed a law to expand and make permanent a tax exemption on equipment purchases, including purchases of metals recycling machinery. The law becomes permanent July 1, according to tax services firm Ryan.