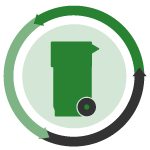 A worker was killed in a MRF accident in Nebraska shortly after the publication of an article highlighting the often-dangerous working conditions in the recycling industry.
Industry injuries report: Fairwarning.org highlighted worker deaths and injuries in the recycling industy, detailing a number of incidents around the country where employees of recycling operations were put in extremely dangerous conditions.
Fatal accident: One man was killed and another injured when a skid-steer loader knocked over a concrete divider at Mid-America Recycling, according to 1011now.com. The Occupational Safety and Health Administration will investigate the accident, which occurred at the company's Lincoln, Neb. materials recovery facility.
Enforcement vs. privacy: A judge in Washington is expected to rule soon in a Seattle case involving organics diversion enforcement and privacy concerns, according to KOMO News. Plaintiffs in the case say Seattle collectors are violating their privacy by digging into garbage cans to see if there are food scraps, which are banned from disposal.
Water bottle recycling: General Motors Co. is working with multiple recycling companies to divert water bottles generated at GM facilities from the waste stream and recycle them. The PET containers are being recycled into noise-dampening engine covers in the Chevrolet Equinox, among other uses.
Recycling education: Care to Recycle, an initiative of Johnson & Johnson Consumer Inc., is sharing creative do-it-yourself projects with parents to help them educate their children about recycling items found in the bathroom. The effort comes after a survey showed less than 1 in 5 people have a bathroom recycling bin.
Apple's recycling: Global electronics company Apple recycled more than 61 million pounds of steel, plastic, glass, aluminum and other materials through its electronics recycling initiatives last year. Businessinsider.com reports that steel made up the heavist fraction, at more than 23.1 million pounds, followed by plastics (13.4 million pounds), glass (11.9 million pounds) and aluminum (4.5 million pounds).
Contamination concerns: Two recycling drop-off depots in the Chicago area will close down because roughly 80 percent of what has been deposited is garbage, according to the Post-Tribune. To get tough on rural residents and apartment dwellers who are avoiding paying for garbage service by dumping trash there, the Lake County Solid Waste Management District plans to install new signs and security cameras to record vehicle license plates.