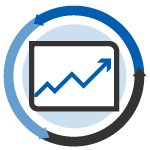 The price of curbside PET bales has continued to climb, rising 9% between January and this month.
PET beverage bottles and jars are now averaging 13.16 cents per pound, compared with 12.02 cents per pound this time last month. Some regions are trading as high as 14.00 cents per pound, with lows in the range of 11.00 to 12.00 cents.
PET scrap prices have been increasing each month since September 2022, when they bottomed out at around 7.53 cents per pound. Of course, they're still nowhere near the record highs of April and May 2022, when the plastic was trading for over 39 cents a pound.
Meanwhile, prices for most other plastics have remained relatively flat from January.
Natural high-density polyethylene (HDPE) is at an average 62.03 cents per pound. This compares to 61.54 cents last month and 54.36 cents this time last year.
Color HDPE also remains steady this month, at an average 9.27 cents per pound. This grade averaged 19.50 cents one year ago.
The national average for polypropylene (PP) is unchanged, trading at 5.38 cents per pound. PP was 22.63 cents one year ago.
The price of Grade A film held steady, at 15.63 cents per pound, unchanged from last month. The price was 20.50 cents one year ago.
Grade B film is still 6.94 cents.
Grade C film remains at a low 0.50 cents per pound.
Learn more in person
A session at the upcoming 2023 Plastics Recycling Conference (March 6-8 outside Washington, D.C.) will delve into the ways inflation, supply chain shifts and many other factors are affecting plastics markets. "Analysts on Market Trends," set for March 6, will feature speakers from OPIS PCW, ICIS, Wood Mackenzie and Miller Recycling Associates. Check out the full session lineup and register today.
These prices are as reported on the Secondary Materials Pricing (SMP) Index. This pricing represents what is being paid for post-consumer recyclable materials in a sorted, baled format, picked up at most major recycling centers. 
For a free trial to SMP's Online Post-Consumer Pricing Index, visit the Recycling Markets website. You can also contact Christina Boulanger-Bosley at cmb@recyclingmarkets.net or 330-956-8911.