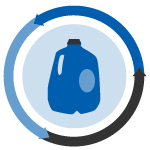 A solvent-based recycling process successfully de-inks LDPE film samples, and an equipment provider releases an updated line of melt filter products for compounding.
PP/PU compatibilization: Researchers from Japan's Shinshu University used a compatibilizer to blend recovered PP and PU into a thermoplastic compound. Phys.org wrote about the research, which involved using a polypropylene grafted maleic anhydride to act as a compatibilizer while PP and toughening thermoplastic polyurethane (TTPU) were melt-blended over two cycles. The team's paper was published in the May-June edition of the Journal of Materials Research and Technology. 
Film de-inking: A solvent-based recycling process used by German plastics reclaimer APK successfully de-inked printed LDPE film, according to the company. Siegwerk, a provider of inks for package printing, and APK collaborated to conduct the LDPE film de-inking trials this past spring. Films that had been printed with Siegwerk's yellow, red, black and blue inks first went through a traditional mechanical recycling process. Then the plastic went into APK's Newcycling solvent, which dissolved the polymers. The resulting solutions contained the polymer and ink components. By using a specially designed filter, APK was able to remove the inks from the plastic. In the cases of the red, black and blue samples, APK reported the recycled plastics had "near virgin" transparency. But in the case of the yellow sample, a marginal yellowness remained after the treatment. 
Packaging film innovation: Calgary, Alberta-based NOVA Chemicals developed a high-density resin that opens the door to recyclable all-PE films for use in food packaging, heavy duty sacks, e-commerce and other applications. The resin is designed for the biaxially oriented PE (BOPE) market. The HD-BOPE films allow packaging companies to produce PE monomaterial film structures that perform as well as traditional mixed-material structures in a number of ways, according to a NOVA press release. 
Mineral additive partnership: Two companies have teamed up to produce recycled resins with a mineral additive that provides barrier properties. The Danish company PLASTIX, which mechanically recycles used fishing nets and ropes into recycled resin, has partnered with Titan Bioplastics, a U.S. company that developed the additive Titan Nanofill. At small loading rates, the food-safe additive provides moisture, oxygen and UV-blocking properties, a press release states. The goal is to allow the recycled resins to replace virgin plastic in a number of applications, including food packaging. 
Melt filtration technology: Equipment company MAAG Group launched an updated melt filtration product portfolio that supports compounding processes, according to a press release. The products include the flat slide technology FSC, which covers a range of viscosities and temperatures (up to 320 degrees Celsius) for low-viscosity polymers, such as hot-melt adhesives. The company's piston screen changers DSC and CSC are available with three different cavities: a standard round one for very high filler content, an enlarged PE cavity that provides versatility in balancing throughput and filler loading, and an "R" cavity that has a four-times-larger filter area. 
Easily depolymerized plastic: Chemical engineers from Rensselaer Polytechnic Institute in Troy, N.Y. are working to develop a polystyrene replacement that's easier to depolymerize. Using a grant from the National Science Foundation (NSF), the team seeks to make a new class of polymer that's tough and clear but can easily be broken down into its components for reuse, according to a press release. "They will develop a library of recyclable copolymers that they will synthesize, characterize, study, and evaluate as polystyrene substitutes," the release states, emphasizing that researchers want the solution to be practical and affordable.
More stories about technology