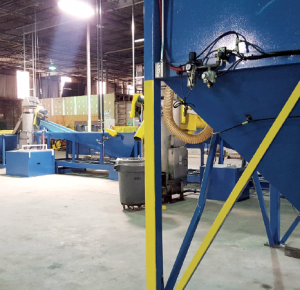 After being founded in 2015, A1 Polymer Recycling began running its processing line full tilt in the second quarter of 2017. That was right around the time China started signaling its plans for an import ban on scrap plastic and shaking the foundations of recycling markets.
At A1, those international developments have been framed as an opportunity.
"We believe that after many years of exporting our recyclables abroad, it's possible to bring the recycling process ashore to the United States," said A1 CEO Gaurav Patel, "and believe it to be a necessity for our nation moving forward to handle plastic waste as well as provide quality jobs."
Patel launched the Georgia reclaimer alongside his cousin Tommy Patel, leveraging $4 million from Tommy Patel and some business associates. Design and installation began on the company's 60,000-square-foot facility in July of 2015. The site is located in Macon, a city of about 150,000 people roughly 85 miles southeast of Atlanta.
The reclaimer has an annual capacity of 12 million pounds, and 85% of the material it runs is post-industrial. It focuses on PET sourced from a variety of manufacturers on the East Coast and in the Midwest.
"We look to work with injection molders and thermoforming companies to handle their scrap and quality-control-rejected materials," Gaurav Patel noted.
The operation provides flake to the fiber, packaging, sheet and strapping markets. And to get material to that output stage, A1 relies on a wide variety of equipment: a West Salem Machinery bale breaker, Roach conveyors, an NRT SpydIR in-flight sorter, Gala Zerma granulators, Kice multi-aspirators, Gala spin dryers, and a Satake ScanMaster II optical color sorter.
The recycling line was fabricated in-house and gives the company the capability to undertake automated polymer and color sorting, washing, granulation, de-dusting and label removal, and more for both post-industrial and post-consumer loads.
The existing equipment also positions A1 to continue to increase capacity, according to the company.
"We believe the future of the recycling industry as a whole is bright, and at its infancy," Patel said. "We look forward to being able to recycle towards a better future for many years to come."
This story originally appeared in the Summer 2019 issue of Plastics Recycling Update. Subscribe today for access to all print content.
Know of a plastics processor that should be featured in this space? Email news@resource-recycling.com.