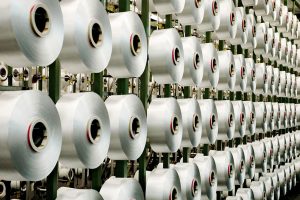 An Italian company that recycles post-consumer nylon will spend over $40 million to acquire a North Carolina fiber manufacturer.
Aquafil USA announced on May 31 it has finalized its $40.5 million acquisition of O'Mara, which is based in Rutherford College, N.C. The acquisition is expected to help expand sales opportunities for the companies' recycled-plastic fibers, according to a statement.
Aquafil uses its ECONYL technology to recycle post-industrial and post-consumer nylon into fiber for use in clothing and carpet. The process depolymerizes the recovered plastic into the organic compound caprolactam, which is used to make new nylon 6. The company's feedstock includes carpet, fishing nets and other materials.
In the U.S., Aquafil USA operates a Phoenix facility where post-consumer carpet is broken down and the plastics recovered. PP is separated for sale to outside companies and nylon 6 pellets are produced for shipment to Aquafil's depolymerization plant in Slovenia. Aquafil recently announced plans to build a second plant in Woodland, Calif., near Sacramento.
O'Mara produces nylon, PP and polyester fibers, including its Ecosense 100% recycled polyester filament yarn made from post-consumer PET. O'Mara buys recycled PET chips to produce Ecosense.
Today, the recycled polyester product represents only a small percentage of O'Mara's sales, the company said in a statement to Plastics Recycling Update. But the company believes its customers "will appreciate the potential and value of ECONYL brand for nylon products and they will increase their interest also in other sustainable yarns offered by O'Mara such as Ecosense."
The acquisition allows Aquafil to strengthen its position in the U.S. and provide access to a broader array of customers, including clothing brands, according to the company's announcement. Aquafil will also be able to benefit from trade agreements between the U.S. and certain Latin American countries. Those agreements provide exemptions from U.S. tariffs on clothing produced in Latin American countries when the yarn to make the clothes was sourced from the U.S., according to the release.
Aquafil financed the purchase by issuing 40 million euros (about $45 million U.S.) in bonds, to be paid back over 10 years at an annual fixed rate of 1.87%.
Photo courtesy of Aquafil.
To receive the latest news and analysis about plastics recycling technologies, sign up now for our free monthly Plastics Recycling Update: Technology Edition e-newsletter.
More stories about markets