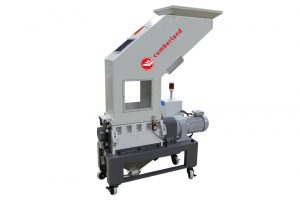 The latest size-reduction system from Cumberland offers energy savings alongside quality improvement.
The Wisconsin-headquartered manufacturer in May released its S10 Series Screenless Granulator, a small-scale system especially suited for production scrap recycling.
The system features a quiet, low-RPM speed rotor. And the granulator's hardened steel knives produce "uniform size regrind with minimal dust or longs," Cumberland stated in a release.
Although the equipment is suited for a variety of applications within the recycling and plastics processing industries, Cumberland designed it especially for reclaiming production scrap such as sprues and runners. "The small overall footprint and lightweight, portable design is ideal for injection molding and small piece extrusion processors," the company noted.
"These units are virtually maintenance free, effectively increasing production uptime," said Andre Adams, Cumberland's senior product manager of size reduction. "Material change-overs are faster with additional access points to clean out the chamber."
The machine also features magnets that pick out ferrous contaminants, protecting the granulator's cutting blades.
The hopper features three windows, allowing the operator to monitor the equipment's capacity without shutting down the entire system. Additional monitoring options are available upon request, including electronic bin level and knife configuration data collection.
Depending on the model chosen, the granulator harnesses 230 or 460 volts. It puts out between 0.5 and 2 horsepower, achieving 25 RPMs. The machine can process anywhere from 13 pounds per hour to 50 pounds per hour, varying by model. The smallest model weighs 344 pounds, and the largest totals 584.2 pounds.
Photo courtesy of Cumberland.
To receive the latest news and analysis about plastics recycling technologies, sign up now for our free monthly Plastics Recycling Update: Technology Edition e-newsletter.
More stories about technology