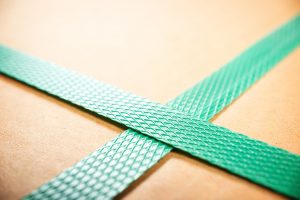 Polychem, a manufacturer of recycled polyester strapping, has been purchased by a private equity firm.
The Mentor, Ohio-based recycled content specialist was acquired by The Sterling Group. Terms of the deal were not disclosed.
Polychem is a vertically integrated manufacturer that runs its own plant for recycling post-consumer PET. The plant generates feedstock for the company's extrusion lines and for sale to outside manufacturers.
While it's not nearly as common of an end use as others, strapping is a notable domestic market for recycled PET. According to the latest annual report from the National Association for PET Container Resources (NAPCOR) and the Association of Plastic Recyclers (APR), 130 million pounds of RPET used domestically went into strapping in 2017, behind fiber (732 million pounds), food and beverage bottles (333 million pounds) and sheet and film (291 million pounds), but ahead of non-food bottles (69 million pounds) and other (19 million pounds).
Polychem also produces PP strapping and sells related strapping equipment and products. It has operated as a family business since the 1980s.
Based in Houston, the Sterling Group describes itself as an operationally focused middle market private equity firm. Plastics News noted the company owns also Tangent Technologies, an Aurora, Ill. business that recycles recovered HDPE into lumber products.
Photo credit: Nor Gal/Shutterstock
More stories about PET