A North American post-consumer plastics reclaimer is expanding to process additional curbside-grade film, a move the company attributes to rising demand among end users.
Enviroplast, a Canadian reclaimer with facilities in Quebec and Ontario, recently installed a new wash line in one plant and is gearing up for significant expansion in the other. The company's processing growth has been driven by increased end-user demand, alongside improving output quality from the company's post-consumer film suppliers.
Mathieu Séguin, Enviroplast CEO, said processors must make significant equipment improvements to meet that incoming demand.
"In the next five or 10 years, we believe all the retail plastic will be made from recycled plastic," Séguin said. "There's no reason why you're using prime material or virgin material for a consumer bag. Right now the reason is quality, but in 10 years that argument will not stand."
Shift to post-consumer
The company was founded as a family-owned business in 1991 and was initially processing exclusively post-industrial LDPE. Enviroplast bought recovered material from manufacturers and frequently sold the end pellet back to the scrap generator.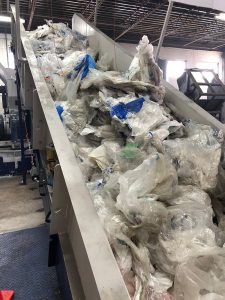 In 2016, the business was acquired by a small private equity firm, which decided to change the operation's focus from post-industrial to post-consumer. The new investors put money into equipment purchases, installing a wash line, water treatment systems and more.
"We saw the trend in the marketplace that most manufacturers would end up doing their own recycling," Séguin said. "So that doesn't leave much space for post-industrial recyclers.
"We figured out that if we want to keep recycling plastic, the problem in society that we have is not the plastic that people don't see," Séguin added. "The problem that we saw, which turned out to be an opportunity, is to start treating the plastic that everyone is seeing and nobody wants, the post-consumer."
Wash line expands
Enviroplast recently commissioned a new wash line at its Quebec facility in the Montreal area. That system increases the facility's production capacity by about 15 million pounds per year, bringing the total to 75 million pounds.
The wash system incorporates water treatment technology that provides water recycling capabilities.
"We didn't want to clean plastic while at the same time sending all those contaminants down the drain," Séguin said. He noted the water treatment system allows the facility to handle a lot more mud, sand and other contaminants in its feedstock.
Enviroplast is also gearing up to commission two additional lines at its Ontario plant near Toronto this year, one in June and a second in December. The latter expansion will solely process agricultural plastic, including bale wrap, silage wrap, grain bags and more. Enviroplast has a supply contract with an agricultural plastic collector to receive this material and will process about 20 million pounds on that line per year.
The other Toronto installation will be dedicated to processing material sourced from Canada Fibers, a significant supply partner for Enviroplast. That line will process scrap plastic from Canada Fibers' materials recovery facilities (MRFs), handling between 20 and 25 million pounds per year. The two companies last week announced the partnership, noting the Enviroplast expansion involves an investment of 25 million Canadian dollars.
Focus on lower grade
Enviroplast primarily handles PE, as well as a smaller amount of PP. The company's aim is to handle the lower-grade film.
"We figured, when we commissioned that equipment, we wanted something that I can literally put an agricultural mulch full of dirt and sand in it … and in the end it would come out as a perfect round pellet free of contamination," Séguin said. "We are hunting for the dirtiest material out there."
Because of that focus, the company has received an increase in requests in the time since China restricted imports of most recovered plastic. But although the increased supply is there, the company has to be selective, Séguin said.
"It's all a question of yield," he said, explaining that the company wants low-grade film, but not film that's contaminated with other material coming out of the MRF. "I'm not a sorting facility."
These requirements have led the company to work with its MRF suppliers, tailoring the quality so it meets Enviroplast's specifications.
Driven by demand
Brand owners are increasingly incorporating recycled plastic into their products, and this is a significant trend influencing the Enviroplast expansions.
"The consumer is putting pressure on larger retailers to adopt a more sustainable approach to their packaging," Séguin said.
Right now, brand owners are frequently using up to 60 percent recycled content in film products, he noted.
Séguin pointed to the growing number of large corporations making recycled-content pledges and sustainability commitments. Numerous brand owners have committed to using substantially more recycled plastic by certain upcoming deadlines. And early this year, major companies formed the Alliance to End Plastic Waste, a coalition that includes incorporating recycled plastic among the sustainability-related initiatives it will push for.
But the consumer demand is key, Séguin said, and will play a significant role in boosting recycled content in film.
"That's putting a huge pressure on the industry, as everyone is trying to get their hands on that material, at a different quality, since we don't have all the same equipment or the same process," he said.
As an example of demand exceeding supply, Séguin pointed to major retailer CVS, which uses retail bags made with recycled content. Currently, some of the company's bags are sourced from Germany, which Séguin explained involves transportation costs.
"The reason is simple: There's no one now in North America that has the capacity to provide them with the steady [supply] of resin to make bags, and no one is at that quality level at the moment," Séguin said.
Photos courtesy of Enviroplast.
More stories about processing