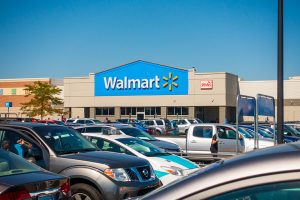 Worldwide retailer Walmart has announced a handful of new plastics recycling and waste reduction commitments.
The company highlighted its latest recycling-related initiatives in a press release this week, noting that the retail giant will move the needle by "leveraging its massive private brand program."
Walmart offers store-brand products under its private brand system, which uses an enormous network of suppliers, all of whom would need to use recycled content under the new goal. Some of those private brands include Sam's Choice, Great Value, Equate and others.
The company announced it wants to use at least 20 percent post-consumer recycled content in all private brand packaging by 2025. The recycled content target doesn't single out plastic, but separate source reduction goals are plastic specific.
"The move is designed to help get to the heart of the problem by focusing on the retailer's private brand packaging, building upon existing efforts to reduce plastic waste in Walmart U.S. and Sam's Club operations, and encouraging national brand suppliers to set similar packaging goals," Walmart stated in the release.
The packaging commitment was made during a Walmart supplier forum, and the company also encouraged its national brand suppliers – brand name products sold at Walmart stores – to strive for similar packaging goals as part of Walmart's Project Gigaton effort.
In the announcement, Laura Phillips, senior vice president for global sustainability at Walmart, described the effort as "another key milestone in our ongoing journey of working with our private brand and national brand suppliers" to increase product sustainability.
Beyond 20 percent recycled content, Walmart stated its commitment to strive for its brands to use 100 percent recyclable, reusable or industrially compostable packaging by 2025. This goal was first announced as a recyclability pledge in 2016. Walmart will also commit to label all packaging for its food and consumable products with the How2Recycle label in the next three years.
The announcement also highlighted several separate waste- and recycling-related Walmart projects, including the company recycling 151 million pounds of shrink wrap in 2017, providing an in-store film recycling option, offering alternatives to single-use products and more.
Photo credit: Anton Gvozdikov/Shutterstock

More stories about brand owners