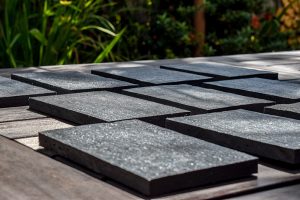 Mixed plastics and recovered carpet aren't usually the preferred feedstock for product manufacturers. But a Texas company making wood alternatives for the construction sector is building its business around those very materials.
Athyron operates out of a 100,000-square-foot facility in Kountze, Texas, making a product called Miura Board that combines carpet and low-value post-consumer plastics, typically PE, according to Alfredo Faubel, the company's CEO.
The business takes in gaylords of commingled plastics – what Faubel calls "floor sweep" or "the stuff the no one wants" – and combines that with carpet fibers.
There is no pelletizing involved. "We go straight from low-grade waste to finished product," said Faubel.
That finished product is a board that can replace a variety of industrial items that are typically made of wood. One Miura Board application already in production is construction mats, which are laid at job sites and enable vehicles and equipment to operate on what would otherwise be muddy, uneven surfaces.
Miura Board can also be used on public boardwalks or other decking spaces that are subject to repeated impact. Railroad ties are another possible end market identified by the company.
Investment backing of $5 million
Faubel said that because the products don't use any wood, as is common in competitor plastic composites, they are less susceptible to rot and other forms of water-based deterioration.
"The product is not exactly targeted to the residential market," said Faubel. "We are not there to provide 16 different shades of pink. The product is sold on the basis of performance."
Athyron leases its Texas space and has been there since 2017, with the company having spent its first year building out the processing and manufacturing line. Faubel said it uses proprietary equipment, much of it built in South America, where several factories have been employing a similar manufacturing process. He noted that in Brazil and Argentina, manufacturers have for years been combining scrap plastics with rice hulls to create a board material.
The Texas operation has $5 million in investment funding behind it and started doing its first trials in the first quarter of 2018, Faubel said. It moved into the commercialization stage later in the year.
"The [plastics recycling] market is so huge," said Faubel. "At this point, we don't make a dent in anything, but with the right partners and right investors, we believe we can grow this very rapidly."
Photos courtesy of Athyron.
To receive the latest news and analysis about plastics recycling technologies, sign up now for our free monthly Plastics Recycling Update: Technology Edition e-newsletter.
More stories about challenging materials